SPE Preview

The 16th Annual SPE Thermoforming Conference and Exhibition will host over 1,000 attendees and nearly 100 exhibitors at the Nashville Convention Center in Nashville, Tennessee, September 16-20, 2006. This show will be a forum for the newest techniques, latest equipment, materials, auxiliary equipment and current industry news. The conference will also feature multiple technical sessions targeting roll-fed and cut-sheet thermoformers. The following companies will be exhibiting products for cut-sheet thermoformers. For information and registration visit www.4spe.org.com.
---
Expanded Product Line

Advanced Ventures in Technology, Inc. (AVT)

has expanded its newest thermoforming machinery automation system offerings.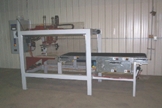 AVT has introduced a new state-of-theart pick and place sheet load and unload system whereby material is lifted from a stack with vacuum cups, rotated 90º and placed on a shuttle conveyor; then the sheet is shuttled out, then shuttled back on a reversing conveyor; a pick and place system then picks the sheet up once again, rotates it back 90º and places it back on the stack. The system is said to increase production by as much as 30%.

AVT, a designer and manufacturer of rotary and single station pressure thermoforming machines, also sells custom- made automation systems for all types of thermoforming equipment. AVT built and installed the world's largest rotary thermoforming machine, an automated 70' x 40' wide system in use manufacturing thermoformed RV. AVT and its subsidiary NescCo, are leading designers and manufacturers of thin and heavy gauge thermoforming and vacuum forming systems and accessories.

For additional information, contact AVT, 3870 M-61, Gladwin, MI 48624, 989-246-0445, Fax: 989-246- 0465, E-mail: sales@adv-ven-tech.com, Web: www.advven- tech.com.
SPE Booth #141
---
Sheet Fed Formers & 5-Axis Trimmer

MAAC Machinery,

a market leader in the manufacturing of sheet fed thermoforming machines, will be releasing several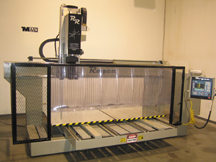 new features to their Comet and MAAC product lines at The SPE Thermoforming Conference. More advanced control systems will allow control of all machine parameters for the quickest set ups, along with quick change vacuum, air and water packages, more quick mold change systems and several advancements in specialty clamping systems all allowing for faster set ups, more machine time, as well as creating the ability for our industry to gain more forming opportunities which may not have been feasible previously.

MAAC, with their joint partnership with Stopol, will also be re-introducing their newest product line, the Royce Router, a 5-axis CNC trimming machine. The Royce has been specifically designed for the secondary trimming needs of the sheet fed thermoforming industry. It offers fast feeds and speeds, high quality and reliable components setting the pace in reliability, repeatability and parts per hour.

Through this same partnership with used machinery dealer Stopol, MAAC will now offer complete trade-in programs available for both thermoforming machines and CNC routers.

With additional partnerships and resources, MAAC will also be offering complete single source turn-key packages, from thermoforming machines and molds, to trimming machines and fixtures, also including all automation, auxiliary equipment and related services.

For additional information, contact Michael Alongi, MAAC Machinery Corporation, 590 Tower Blvd., Carol Stream, IL 60188, 800-588-MAAC/630-665-1700, Fax: 630-665-7799, E-mail: sales@maacmachinery.com, Web: www.maacmachinery.com.
SPE Booth #326
---
Robotic Trimming Solutions

Robotic Production Technology (RPT)

will show the latest addition to its family of standard router trimming systems, the RoboTrim™ RT-500, at the SPE Thermoforming Conference. The RoboTrim RT-500 is a new pre-engi- neered router trimming and knife deflashing system designed specifically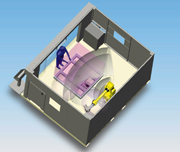 for the plastics industry. The RT-500's increased part height capability gives customers the flexibility to process a variety of part sizes and shapes. The system's speed and reliability result in more uptime and higher throughput to consistently deliver more parts per hour than other trimming methods.

The RT-500's riser-mounted robot and servo-controlled rotating table allow it to easily process 60" x 60" x 36" high parts typical of thermoformers. Longer parts of up to 80" x 36" with shorter heights can also be processed.

RPT will also show the RoboTrim RT-1000 router trimming solution. The machine is designed to use one or two FANUC M- 16iB robots and an aux-axis servo-controlled 10' rotating table.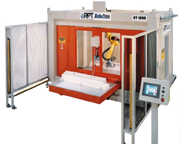 RPT developed application-specific software tools – RPT RouterWare – that make the system easy to use.
Options include addition of a second robot, increased part height and automatic tool change. The system can also be used for deflashing by adding the patent-pending RPT Compliant Knife. Manufacturers can also add the RPT RouterVAC high volume vacuum system for part hold down and chip removal and RPT TrimPro offline programming software.
For additional information, contact Roberta Zald, Robotic Production Technologies, 1255 Harmon Road, Auburn Hills, MI 48326, 248-829-2800, Fax: 248-829- 2750, E-mail: solutions@rpt.net, Web: www.rpt.net.
SPE Booth #440
---
New 3-Axis CNC Router Series

Quintax Inc.

is expanding its product offering with the introduction of a line of 3-axis CNC routers engineered primarily for flat sheet material users in the plastics, wood and sign industries.

The Quintax Express Series routers are five machine models with single-tables ranging from 2'x 2' to 5'x 10' with Z-axis heights to 5.1 inches.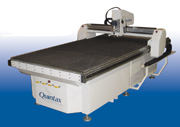 Spindles available on the Express Series range from 1.5 to 5 hp and operate up to 24,000 rpm.
Standard features include; a heavy-duty rack and pinion axis drive system, high-torque AC steppermotors, PC-based controls and nesting software. All machines ship assembled and ready for operation.
Quintax manufacturers a complete line of industrial 3- and 5-axis CNC routers for accurate high-speed trimming, cutting and shaping of plastics, composites, non-ferrous metals and wood. Quintax moving table and gantry style CNC routers are available in a broad range of sizes and horsepowers.
For additional information, contact Eric Kenney, Quintax, Inc., 4445 Allen Road, Stow, OH 44224, 330- 920-9200, Fax: 330-920-4200, E-mail: sales@quintax .com, Web: www.quintax.com.
SPE Booth #426
---
Custom Extruded Sheet

PMC,

one of the fastest growing custom plastic extruders in the Midwest, will be sponsoring and exhibiting at the SPE Thermoforming Conference.

"We are honored to be a part of the Thermoforming Conference in Nashville," said PMC Vice President of Sales and Marketing Rich Zydonik. "The thermoforming industry has been one of the major reasons for our tremendous growth over the past twelve months and we are looking forward to meeting with our industry friends and contacts to see how we can continue to help them be successful."

PMC has added three manufacturing representative firms to its team in the past three months: Leathertone, Inc. in the Northeast, Kerry Bone & Associates in the Southeast, and Boles & Associates in the South and Lower Midwest. The addition of these firms will allow PMC to continue to expand its service area.

PMC is a division of Rowmark, Inc., the industry's leading manufacturer of signage and engraving materials.

For additional information, contact George Privateer, PMC, 2040 Industrial Drive, Findlay, OH 45840, 877- BUY-PMC6/419-425-8974, E-mail: gprivateer@rowmark.com, Web: www.buypmc.com.
SPE Booth #325
---
5-Axis CNC Router

Thermwood

will exhibit the Model 90, an all new 5-axis CNC router. It targets high speed trimming of threedimensional parts. Cycle times are dramatically faster, on some parts twice as fast with its advanced drive, lighter, stiffer structure and Impact Resistant Head. The new patented Impact Resistant Head is lighter, stiffer and yet reduces or eliminates the need to realign the head after an accidental crash, something that is common during programming and set-up.

The Model 90 has a larger envelope that allows full horizontal table coverage side to side and front to back.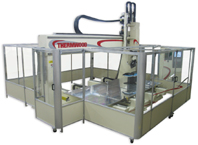 Mechanical structures were designed using finite element analysis, a sophisticated CAD technology that scrutinizes strength, stiffness, deformation and dynamics of the machine structure. This is used to increase its strength, stiffness and ultimately performance. All weldments are stress relieved to further increase strength, stiffness and provide long term stability and each machine is laser calibrated to assure accuracy.
The Model 90 represents a new generation of trimming machine, offering high-speed motions, a large envelope, resistance to common set-up problems and alignments capable of running CAD generated programs accurately.
For additional information, contact Cliff Crawford, Thermwood Corporation, P.O. Box 436, Dale, IN 47523, 800-533-6901/812-937-4476, Fax: 812-937-2956, E-mail: sales@thermwood.com, Web: www.thermwood.com.
SPE Booth #335, also see them at IWF Booth #8826
---