Cut-to-Size Automation Doubles Productivity

Liberty Display Group is a full service manufacturer of plastic display products located in Blaine, Minnesota.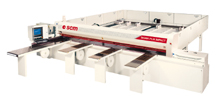 They custom fabricate acrylics, PETG and other plastic substrates, providing services which include design, prototype and manufacture of sign holders, literature holders, P.O.P. displays, retail display fixtures, store fixtures, bulk food dispensers, interior signage and various other custom products used in the retail environment.
The company recently made a decision to upgrade their plastic sheet cutting capability in order to improve productivity and edge cut quality. At that time, they were operating two older horizontal beam saws; cutting thin material on one saw and thicker materials on the other. Greg Erickson, production manager at Liberty Display Group, wanted to upgrade to an automated saw that could consolidate all of their cutting requirements while providing for additional capacity for the future. After completing their due diligence, Liberty selected the Sigma 105 PLM Panel Saw for Plastics manufactured by the SCM Group USA of Duluth, Georgia.
By selecting the Sigma 105 PLM, Liberty was able to consolidate all of their cutting onto one machine and double their productivity by reducing their cutting time in half. The Sigma automates material handling with its clamps which automatically position and precisely measure the material for each cut. Its high-speed carriage cycling speed (up to 4x faster than their previous saw) reduces each cut cycle time which increases productivity. In addition, the large air tables in front of the saw will support the cut pieces as they are pushed forward by the clamps/pusher so off loading and reloading of cut pieces is eliminated.
Standard features on the saw include an 18 hp heavy duty main motor with inverter to control main blade rpm, air/mist cooling and a specially designed cutting table with thin openings to support the cutting of very thin plastic material. "Our new saw is cutting our entire range of materials including .020/.030" PETG, providing high quality chip-free edges," said Erickson. "We are obtaining twice the blade life on the Sigma as compared to our previous saws." Erickson attributes this to the heavy duty base construction and precision rack and pinion drive system that provides for smooth, vibration free operation of the saw carriage.
The Sigma 105 PLM also includes a solid phenolic rear crosscut table which provides support for crosscutting of thin strips and small parts. A graphically driven, userfriendly Wincut interface running on an IBM PC with a Windows XP operating system is provided for the operator. The easy to operate Wincut interface software includes manual and automated cutting programs along with a Cutty Sheet Optimizer which all increase material yield. The software also includes easy to use self diagnostics with remote access capability from the SCM Group.
For more information, contact Phil Bryant, SCM Group USA Inc., 2475 Satellite Blvd., Duluth, GA 30096, 770-813-8818, Fax: 770-813-8819, E-mail: pbryant@scmgroup-usa.com, Web: www.scmplastics.com or see them at IWF Booth #8340.