IWF Preview

The International Woodworking Machinery & Furniture Supply Fair-USA® will feature nearly 1,400 exhibitors August 23-26, 2006 at the Atlanta Convention Center, Atlanta, Georgia. At IWF 2006 there will be the opportunity to view technology that will decrease production costs, while improving profits, creating new opportunities for economic growth while sustaining a global competitive edge in the global marketplace.
The following companies will be showing machinery and tooling designed specifically for the plastics industry. For more information on IWF 2006, visit www.iwf2006.com.
---
Benders & Polishing Machines

A.W.E.D. Corp.

offers one of the most comprehensive lines of benders available in the U.S. today. Benders feature either wire or quartz elements housed in a patented system that will adjust the aperture of heat exposure to the sheet for the ultimate in bending of sharp or long 90° bends in thin or thicker material. See a preview of the different sizes and types they offer at IWF 2006.

They also offer edge polishers, straight or bevel, in a large selection of models and sizes. In addition, A.W.E.D. carries plastic cutting saw blades featuring a triple-chip grind (TCG) tooth design from 10" to 16" diameter and panel sizing equipment.

For additional information, contact Victor Miranda, A.W.E.D. Corp., 1175 Buford Hwy., Suite 101, Suwanee, GA 30024, 770-831-9800, Fax: 770-831-7404, E-mail: victor@awedmachine.com, Web: www.awed-machine.com.
IWF Booth #8262
---
CNC Band Saw
The Byrnes/Veneta Model "Mars" CNC-controlled band saw streamlines the process of cutting blank pieces. Operators no longer need to trace an outline of a

blank piece, and the precise movement of the machines cuts parts accurately.
Richard T. Byrnes Co. offers machinery for chairs and furniture, including CNC machining centers; mortisers; tennoners; shaping/sanding machines and 5-axis CNC bandsaws.
For additional information, contact Larry Tolbert, Richard T. Byrnes Co., 600 Hannum Avenue, West Chester, PA 19380, 610-692-2770, Fax: 610-692-3318, E-mail: byrnes@rtbyrnes.com, Web: www.rtbyrnes.com.
IWF Booth #8752
---
CNC Routers

CNT Motion's

hottest-selling machine is the full-size, servopowered CNT-1000. It's built to tackle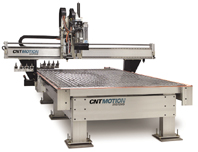 heavier applications including plastics, solid surface, non-ferrous metals and hardwoods affordably and at up to 2,000 ipm. CNT's heavy-duty routers are being used for nested-based manufacturing and are compatible with major nesting software packages. Optional features include tool changers, boring heads and vacuum fixturing.

For additional information, contact Max Andrzejewski, CNT Motion Systems, 7800 Susquehanna Street, Pittsburgh, PA 15208, 412-244-5770, Fax: 412-244- 5760, E-mail: maxa@cntmotion.com, Web: www.cntmotion. com.
IWF Booth #9852
---
New 3-Axis CNC Router
This heavy duty 3-axis CNC router features all tube construction and is equipped with dual 5 x 8 foot tables with dual automatic tool changers on individual tool plates.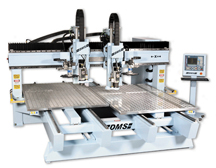 Each 11 hp HSK 63 spindle is serviced by its own servo controlled 8 station traveling carousel toolchanger. The spindles have adjustable spacing across the bridge to accommodate various part sizes. Each aluminum table has a machined multi-zone vacuum plenum that can be controlled manually or automatically. The DMS MT 85T is equipped with the Fagor 8055 controller. A TCP/IP network connection, 1 Gb compact flash memory card and remote telediagnostics are available on the Fagor 8055. All axes are driven by state-of-the-art brushless AC servo motors and fixed screw spinning ballnuts on the X and Y axes for increased speed and rigidity. An automatic lubrication system is plumbed to all way bearings and ballnuts, insuring long term durability and reduced maintenance downtime.
For additional information, contact Denny Brazelton, Premier Tech Products, Inc. at 330-923-3125 or Jeff Stein, Creative Machine Technology, Inc. at 330-923-2154, E-mail: dennybrazelton@sbcglobal.net or creativemachine @sbcglobal.net, Web: www.5axiscncrouter.com.
IWF Booth #7081, also see them at SPE Booth #431
---
Routers and Saws for Plastics

Delmac Machinery Group (DMG)

provides the machinery and service needed to increase production. They represent Busellato (CNC machining centers, CNC Routers, Feed Through machines), Delmac Engineering, Celaschi and Gabbiani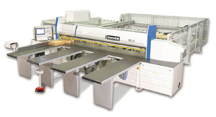 (Single & Double End Tennoners, Combination Machines), SAG (Material Handling), Mayer (Panel Saws), OMAL (Bore, Glue, Dowel & Hardware Insertion Machines) and Fravol (Straight and Contour Edgebanders). These machines will be available at IWF for demonstration; let their knowledge go to work for you. The PS2 Z120 offers a high output with its 4.7" blade projection, optional 7.8" cutting height and fast traverse speeds while maintaining the dimensional accuracy and superior cut quality required by the most discriminating customers.

For additional information, contact Gerri Bolton, Delmac Machinery Group, 4322 Piedmont Parkway, Greensboro, NC 27410, 336-854-1211, Fax: 336-854- 0811, Web: www.delmac.com.
IWF Booth #8806
---
Saws and Routers

Hendrick Mfg. Corp.

will be showing their line of saws and routers for plastics at IWF booth #8640. They manufacture a complete line of fully automated computerized vertical panel saws.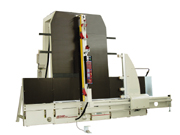 The machine controller has large program storage capacity and can receive off line cut optimization patterns via RS232C interface. Cut lengths range from 4' through 10' models. Solid phenolic table surfaces and a full length pneumatic hold down bar together with 7.5 hp blade motor allow stack cutting and cutting of thin strips. Precision material indexing is by THK ball screw and linear ways. The material pusher can operate in either absolute or incremental mode.

Hendrick will also feature their line of economically priced fully automated computerized horizontal panels saws configured specifically for the plastic industry. Solid phenolic rear table surfaces support thin sheets, small strips, rod and tubing. Full length pusher plates or combination pusher plate with material grippers are available. Adjustable saw kerf strips and full length pneumatic hold down bar support material for chip free cutting. Variable speed saw carriage traverse by AC inverter with high speed return and high speed AC servo material indexing are standard features. The material pusher can operate in either absolute or incremental mode. The machine controller has large program storage capacity and can receive off line cut optimization patterns.

CNC Router

They will also show their 20ZXG CNC router which offers high speed and accurate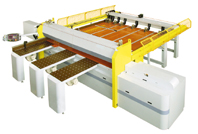 machining capabilities. Feed rates up to 2,500 i.p.m. and positioning accuracy of +/- 0.002" with repetitive accuracy of +/- 0.008" can be obtained. The moving gantry design utilizes AC servo drives, linear ways and ball screws on all axes for smooth and accurate movement. Up to 15 hp, high frequency router spindles with automatic tool changing capability are available. Other features include a PC controller with built in CAD/CAM software, a vacuum table machined for zoning and pod fixturing, a low vacuum pressure safety cut off and air blast tool cooling. The machine is available in many different table sizes.

Hendrick announced the redesign of their website to better serve their customers and will have new product literature available at the IWF show.

For additional information, contact Richard Cohen, Hendrick Mfg. Corp., 32 Commercial Street, Salem, MA 01970, 978-741-3600, Fax: 978-744-0242, E-mail: info@hendrickmfg.net, Web: www.hendrickmfg.net.
IWF Booth #8640
---
Economical CNC Router

Omnitech Systems Inc.

will feature its latest addition to the SELEXX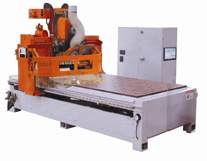 family of CNC Routers, the ECO. The router features a 10 hp spindle, 8 position automatic tool changer with HSK 63F tool holders, a piggyback drill, Fanuc controller, industrial vacuum pump and much more.

Offered with a 4' x 8' table, the machine base is constructed of heavy duty industrial grade welded steel with multiple reinforcements throughout to provide added stability. The heavy duty gantry construction, supported on both sides of the table, ensures vibration free and precision processing of a variety of materials.

The SELEXX/ECO offers industrial features at a truly affordable price of $59,900.

For additional information, contact Raymond Ward, Omnitech Systems Inc., 8100-A Arrowridge Blvd., Charlotte, NC 28273, 704-529-8369, Fax: 704-529- 8374, E-mail: sales@omnitech-systems.com, Web: www.omnitech-systems.com.
IWF Booth #6048
---
Multi-Head Dual Process Technology

With the Optional C.R. Onsrud Multi-Head Dual Process Technology, you can get the throughput of two complete machines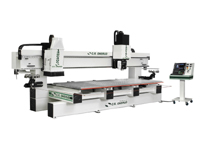 out of a single machine footprint. Start with any Standard 3-, 4- or 5-axis C.R. Onsrud Extreme Duty Series twin table model, and then add a second tool changer and a second main router spindle. When teamed up with the dual process power and capabilities standard in their OSAI controller, you get their Multi-Head Dual Process Technology. Even additional drilling or boring blocks, aggregate tool changers or multiple c-axis can be added as options.

For additional information, contact C.R. Onsrud Inc., P.O. Box 419, Troutman, NC 28166, 800-638-8185/704-528-4528, Fax: 704-528-6170, Web: ww.cronsrud.com.
IWF Booth #8106
---
Tooling for Plastics

Advantage, a favorable factor or circumstance, a benefit or profit.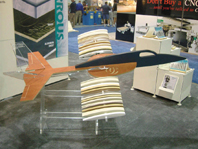 The key word in this definition is profit. In the world of CNC routing, proper usage of tooling is the key to productivity and profitability. If your company is looking for the edge to increase bottom line profits, "theONSRUD advantage" may be for you.

During IWF 2006, Onsrud Cutter LP and their team of application specialists will be demonstrating the advantage of proper tool selection and application by running live parts in the booth with a state-of-the-art CNC router. The materials will include wood, plastic and aluminum, which represent real world applications encountered by the typical CNC shop everyday.

If you want to be more profitable, take some time to visit Onsrud Cutter LP in Building C, Booth 8126 find out about the real advantage.

For additional information, contact Marybeth Thomas, Onsrud Cutter LP, 800 Liberty Drive, Libertyville, IL 60048, 847-362-1560, Fax: 847-362-5028, Web: www.onsrud .com or www.plasticrouting.com.
IWF Booth #8126, also see them at SPE Booth #306
---
Saws and Routers

SCM Group

will feature several saws and routers designed specifically for plastic distributors and fabricators at IWF.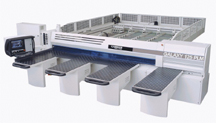 The PLM panel saws provide superior cutting quality while reducing material waste and improving yield at an affordable price. The Galaxy 125 PLM (4.5" cutting capacity) and Sigma 105 PLM (3.5" cutting capacity) will be available for demonstration at booth #8340 and 8326.

There are four models designed to meet the plastic industries' cutting requirements. Value added features include high speed carriage movement with optimized operation for fast cycle times; a worktable designed to cut thin materials; RPM control on independent main motor for best edge results; main blade cooling; 48" wide rear phenolic crosscut table for effectively cutting thin strips and small parts and a pusher with clamps for quick, accurate loading and cutting.

Equipped with with Cutty Sheet Optimization Software. The PLM also includes a modem connection available for on-line technical support and many other advanced technology capabilities. The PLM is available in 10.5', 12.5' or 14.5' cutting lengths.

CNC Routers for Plastics SCM Group will introduce the Pratix BDG 5 CNC Router for machining all types of plastic materials. The Pratix brings flexible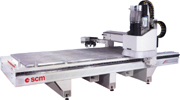 CNC machining capability to an entrylevel machine without making compromises. The Pratix features a 5' x 12' work area, powerful 9/10hp HSK F63 router motor and an eight-position rapid on board tool changer. The flexible aluminum grid vacuum table provides effective hold down for small parts. The Pratix has a user-friendly interface and is supplied with CAD/CAM software compatible with all major design software packages.
SCM Group also offers the Routech Ergon CNC Router, a highly productive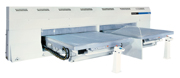 router that offers plastic fabricators a high degree of manufacturing flexibility. Perfect for nesting or fabricating or any close tolerance precision plastic parts, the router comes standard with high quality aluminum grid tables that offer the industries' best vacuum hold down. The Ergon is equipped with powerful 15 hp liquid chilled electro spindles (variable speeds from 900 to 18,000 RPM) and an on-board 12-position automatic tool changers. A variety of table sizes are available (twin 5' x 5', 5' x 10', etc.) with two to four router heads. The Ergon is also available with independent X-axis CNC Control which allows simultaneous processing of different parts on opposite tables at the same time.
CNC Machining Center The Author 600 CNC NBM is a versatile machining center with the capability of bringing 3-shift a day quality and reliability to the plastic distributor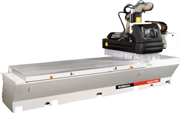 and fabricator.
The machine includes a high quality 5' x 10' aluminum grid vacuum table, a 15 hp liquid chilled electrospindle with a 12-position "on board tool changer". The drill head features 18 vertical spindles and 2+2+1+1 horizontal boring.
For additional information, contact Phil Bryant, SCM Group USA Inc., 2475 Satellite Blvd., Duluth, GA 30096, 770-813-8818, Fax: 770-813-8819, E-mail: pbryant@scmgroup-usa.com, Web: www.scmplastics.com.
IWF Booth #s 8326, 8340
---
Vertical Panel Saws

Safety Speed Cut

manufactures a complete range of vertical panel saws for processing a wide variety of panelized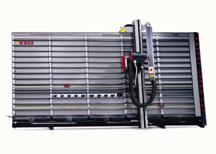 materials such as plastic, metal, wood and composites. Their Model ES52 is well suited for those demanding high volume production environments with tight tolerance requirements.

With nearly 50 years of experience since first developing their vertical sawing concept, Safety Speed Cut consistently delivers accurate, well built panel sizing equipment that will improve the efficiency and safety of your business.

For additional information, contact Tom Houska, Safety Speed Cut Mfg., 13943 Lincoln Street N.E., Hamlake, MN 55304, 800-772-2327/763-755-1600, E-mail: sales@ safetyspeedcut.com, Web: www.safetyspeedcut.com.
IWF Booth #5753
---
Screw-On Insert V-Cutters

Her-Saf

Screw-On Insert V-Cutters are plunging into different materials everyday. They are available from 60º to 170º angles in both body styles: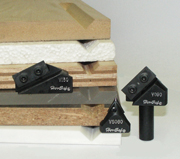 small for machines with 1/4"or smaller collets, and the standard size for 1/2" collets and larger. The custom ground v-insert removes the need for sharpening while adding the bonus of maintaining the point. Balanced to run at speeds up to 21,000 rpm while maintaining a clean accurate cut. The Screw-On style cutter preserves the original setup when having to put a new insert in place. The V-Cutters are now being used successfully by the sign industry, packaging industry and decorative wood and plastic industry.

For additional information, contact Linda Wyant, Safranek Enterprises Inc., 4005 El Camino Real, Atascadero CA 93422, 800-553-9344, E-mail: sales@hersaf.com, Web: www.hersaf.com.
IWF Booth #5964.
---
Panel Saw for Plastics

Schelling's

FMK panel saw is designed and engineered for high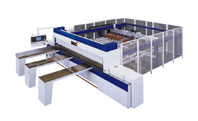 speed, precision cutting of plastic panels including acrylic, PETG, polycarbonate, polyolefins, PVC, UHMW, phenolicls, mechanical and other specially engineered materials. The FMK provides extremely tight cutting tolerances, chip free cutting of material as thin as .030" without a cover board and produces glassy smooth finishes that eliminates the need for secondary machining.

Features include; rigid heavy duty construction; stateof- the-art material handling technology automating loading, cutting and off loading processes; on-line remote diagnostics for increased uptime and productivity; spindle speed control combined with a patented blade design; solid pressure beam with dust protection curtain for dust free parts; online downloading of optimized cutting patterns and label printing. The FMK is offered at a very attractive price to fit the budgets of manufacturers and fabricators of various sizes.

For additional information, contact Stephen Bailey, Schelling America, Inc., P.O. Box 80367, Raleigh, NC 27623, 919-544-0430, Fax: 919-544-0920. E-mail: sbailey@schelling.com, Web: www.schelling.com.
IWF Booth #8840
---
CNC Machining Center

The Balestrini Idea, from Solid Wood Systems, combines speed and accuracy in a compact CNC machining center. Ideal for both small and large production runs, the Idea features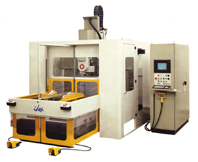 fully digital controls with drives by NUM. It is single fixturing insures multiple operation accuracy with high part output while requiring only a single operator.

CNC Band Saw The MZ Project Band Sawing Center combines a 3-axis CNC band saw with a CC point-to-point boring unit to deliver the fastest and most efficient method for cutting and boring sheet plastics and panels. Bandsawing is much faster than routing and significantly reduces waste.

For additional information, contact Paul Green, Solid Wood Systems, Inc., 3202 East Kivett Drive, High Point, NC 27260, 336-884-0700, Fax: 336-887-6650, E-mail: swsmachine@aol.com, Web: www.solidwoodsystems.com.
IWF Booth #6072
---
Solutions for Plastic and Composites

Stiles Machinery Inc.

announced they will display solutions designed exclusively for plastic and composite materials in booth #9140 at IWF 2006. The Stiles exhibit will include the following machines for plastic applications:

Holzma HPP 380P: For plastic and composite cutting, the saw features a variable speed main saw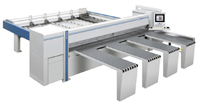 motor that enables selection of best blade rim speed and cutting speed.
Weeke BHP 200P: This CNC router is designed for individual part processing or full sheet routing.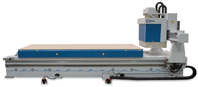 It is equipped with an 8-position tool changer, an oversized 5' x 12' table, and a 12 hp, 24,000 rpm router motor that can handle all types of plastic and composite materials.
Belotti Milling Machines: Extremely versatile CNC milling machines suitable for many applications. These 3- and 5-axis machines are designed to simplify the manufacturing of parts with complex shapes while delivering the highest performance of speed and precision.
Heian FP-151: 5-axis CNC router designed for trimming and machining plastics and composite materials. Featuring a constant output 3.7 kW spindle positioned on a fixed, overhead bridge, the FP-151 provides tight tolerances with excellent cut quality.
For additional information, contact Bill Pitt, Stiles Machinery Inc., 3965 44th St. SE, Grand Rapids, MI 49512, 616-698-7500, Fax: 616-698- 9411, E-mail: bpitt@stilesmachinery.com, Web: www.stilesmachinery.com.
IWF Booth #s 9006, 9026, 9040, 9062. 9106, 9126, 9140, 9226, 9240, 9262, also see them at SPE Booth #421
---
Radius O Flutes

Southeast Tool, Inc.

is offering a new solid carbide

2 flute radius O flute for plastic cutting. The company states that the benefit of the two flute tool is better edge finish. This is especially true on problem type materials. In addition, the O flute design helps in the chip curl to keep the chips from rewelding to the part that is cut. The tool is available in 3 sizes now, with more sizes planned in the very near future.

For additional information, contact Chuck Hicks, Southeast Tool, Inc., P.O. Box 1597, Conover, NC 28613, 828-465-7012, Fax: 828-465-7013, E-mail: router@ southeasttool.com, Web: www.southeasttool.com.
IWF Booth #4753
---
Expanded Product Line

A new 40-page catalog from Vortex Tool Company, Inc. provides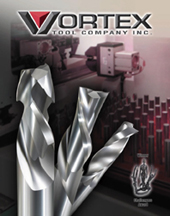 an overview of more than 400 different types of tools the company designs and manufactures for the woodworking and plastics industries. The catalog includes several new lines of router bits designed for cutting Phenolic materials, and additional tooling is featured for cutting aluminum and several new configurations of fiberglass. Vortex has also complemented existing tool lines by adding numerous new tooling choices including several sizes in metrics.

For additional information, contact Mike Serwa, Vortex Tool Company, 5605 Jelinek Avenue, Schofield, WI 54476, 800-355-7708, Fax: 715-355-7353, Web: www.vortextool.com.
IWF Booth #9049
---