UHMW-PE Protective Piling Covers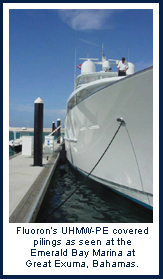 Bob Yaeger, Emerald Bay's Director of Construction, was faced with a problem. The coating on the steel pilings was not standing up to the mechanical and salt-water environment of their floating piers. In addition, the appearance was unfit for a marina of their caliber. The solution would be the first of its kind. Allen Klingensmith of Devcon Construction & Materials Corp., builders of the marina, had to solve the problem. They contacted Fluoron, Inc. inquiring if they could protect the pilings with Ultra High Molecular Weight Polyethylene (UHMW-PE). Its rich, attractive appearance would be very desirable, while providing the best wear protection and corrosion resistance available.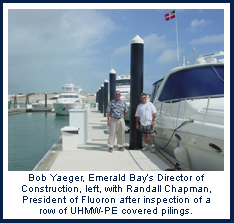 Fluoron's U.S. patent #6,471,627B2 was the perfect solution. Fluoron makes thin wall tubing in diameters ranging from 6" to 100". By taking a UHMW-PE sheet with 1/32"-1/8" thickness and seaming it in lengths up to 39' long, Fluoron was able to make protective piling covers.
Fluoron's primary business is making heat shrinkable tubing of Teflon®, PTFE and FEP for roll covers in the paper industry. They started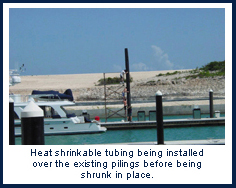 making UHMW-PE tubes because of the materials superior toughness and wear resistance. These characteristics of UHMW-PE made it the ideal product for the marina pilings.
Fluoron has proprietary equipment for seaming tubes from a 1/16" UHMW-PE sheet. Conventional butt-welding equipment is incapable of seaming plastics of this thickness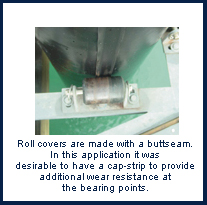 and completely ineffective in seaming UHMW-PE. Fluoron's process makes the tubing heat shrinkable. It can then be shipped for installation at a mill site or marina.
Randall Chapman, President of Fluoron, stated, "This new product is available in various colors, such as red and green for channel markers."
For more information, contact Michael Geary, Fluoron, Inc., 505 Blue Ball Road, Building #120, Elkton, MD 21921, 800-785-4491/410-392-0220, Fax: 410-392-4357, E-mail: sales@fluoron.com, Web: www.fluoron.com.