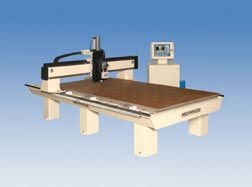 3-Axis CNC Router
Motionmaster, Inc. has introduced its all-new 5000 Series line of 3-axis CNC Routers. With rapid traverse speeds of 5000 inches per minute, the 5000 Series is possibly the fastest CNC Router on the market today.
As standard equipment, the machine features a 5 x 10' work area, 14 HP HSK63F Colombo spindle, a six-position automatic tool change rack, and high-flow vacuum system.
Options include choice of CNC Controller: Fagor 8055C, Fanuc Oi with PC interface, or the PC-based Siemens Acramatic 2100. Other options include custom tables sizes, additional boring tools, saws, and drill units.
The 5000 Series offers a complete system for nested based manufactures, priced for small and medium sized shops. Motionmaster will guarantee100% integration with most popular cabinet design software packages and nesting programs. A complete system may be purchased as a turnkey solution.
For more information, contact Scott Bollar, Motionmaster, 450 West California Avenue, Vista, CA 92083, 760-639-1444, Fax: 760-639-1413, E-mail: scott@motionmaster.com, Web: www.motionmaster.com.