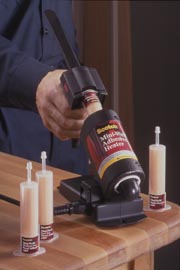 Reactive Hot-Melt Adhesive System
To make life easy for customers in varied industries, 3M introduced three new convenient, low temperature applied economical additions to its complete line of quality adhesives. 3M's new Scotch Mini-Weld Adhesives are packaged in two-ounce, plastic cartridges and come complete with a new dispensing system. The complete system makes the adhesives easy to handle and ideal for use by picture frame makers, furniture makers, cabinet makers, exhibit and P.O.P. builders and others looking for load-bearing strength with the speed of a hot-melt bonding system, in a convenient, portable size.
Available in three formulations, Scotch Mini-Weld Adhesives feature quick heat-up times, low temperature application (190 to 220°F) and along and efficient heat life. The adhesives also combine many of the features of 3M Jet-Weld Adhesives and contain no solvents. A starter kit includes a Mini-Weld Adhesive Heater, carrying case, applicator and three adhesives.
The new Mini-Weld multi-purpose adhesive can be used to bond dissimilar materials, including plastics, glass, metals, melamine and wood.
For more information, contact Reed Gnos, 3M Center Bldg., #220-8E-05, St. Paul, MN 55144, 651-736-4597, Fax: 651-733-0729, E-mail: rpgnos@mmm.com, Web: www.mmm.com/adhesives.