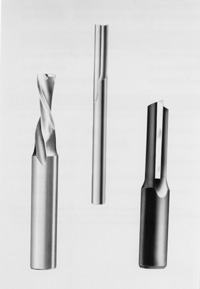 Air Routing Tooling
Air Routing Tooling
Onsrud Cutter announced the availability of an expanded Air-Rout line of router tools for pneumatic routers. Router bits designed to cut plastics, aluminum, wood, and composite materials are available in 1/8" to 3/8" cutting diameters on 1/4" and 3/8" shanks.
Honeycomb Hogger/Cutter
Also offered is a new design for cutting honeycomb core. The integral shank honeycomb hogger cutter, 30-300 series, is designed for CNC machining of expanded core at faster feed rates and deeper cuts than any previous cutter. The hogger shank is available with several different blades suitable for most core types.
For more information, contact Joanne Smith, Onsrud Cutter, 800 Liberty Drive, Libertyville, IL 60048, 847-362-1560, Fax: 847-362-5028E-mail: info@onsrud.com, Web: www.onsrud.com.