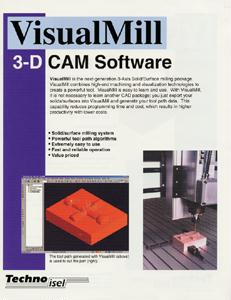 3-Axis Solid/Surface Milling Program

A new brochure from Techno-Isel features VisualMill, an extremely easy-to-use, Widows based, 3-axis solid/surface milling program. VisualMill seamlessly integrates toolpath generation automation and material removal simulation/verification into a single program. Now you can simply import your data into VisuaIMill from Parasolid, Solid-Edge, ICES, DXF, Vrml, Rhino, or RAW data format and generate your toolpath data automatically. This fast, gouge-free multi-surface milling software includes advanced milling strategies such as Pencil Tracing, over 3-D edges, and Re-machining.
This value priced software package, identified as H22M20-VMILL, consists of the VisuaIMill V2.0 CAM engine, Parasolid kernel, IGES translator, DXF, G-Code interface and the Techno postprocessor.
For more information, contact Herb Arum, Techno-Isel, 2101 Jericho Turnpike, Box 5416, New Hyde Park, New York 11042-5416, 516-328-3970, Fax: 516-326-8827, Web: www.techno-isel.com.