World's Largest Hotel Aquarium

AquaDom, the world's largest cylinder aquarium is now open. Located in the heart of Berlin, the AquaDom forms a striking centrepiece for a new multi-purpose development, which includes the designer DomAquaree Hotel, retail, recreational, work and living spaces.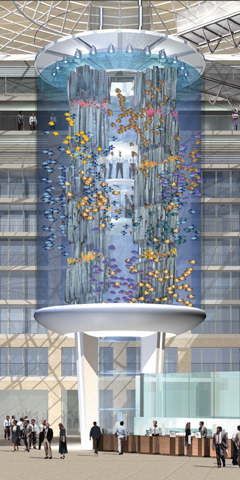 Water is the architectural theme of the complex and AquaDom, at an impressive 16m deep and 11m in diameter, is the highlight of this experience. Lucite International provided the high performance materials used by Reynolds Polymer Technology (RPT) to manufacture the 150 tons of acrylic panels, which were needed to complete the aquarium.

The aquarium has 26 acrylic panels bonded together seamlessly for the outer cylinder and 15 panels for the inner cylinder. RPT designed and created these monolithic viewing panels using Lucite Specialty Monomers and Resins to ensure consistent and optimum optical clarity for anyone viewing the fish held in the AquaDom. Visitors have the unique experience of ascending through a column of water as they ride a split-level glass lift moving through the center of the aquarium

Holding 264,000 gallons of saltwater, it is stocked with 100 different species and a total of 2,500 fish. The variety of fish has been specifically chosen due to the different depths at which each will swim within the aquarium, which is raised 8m above the ground for visitors to admire.

For more information, contact Lucite International, Inc., 7275 Goodlett Farms Parkway, Cordova, TN, 800- 4LUCITE (58-2483) / 901-381-2000, Fax: 901-381-2447, E-mail: sales@lucitecp.com, Web: www.lucitecp.com.