Haas Automation Sponsors Car on Busch Series

Haas Automation, a leading manufacturer of machine tools, will be the primary sponsor of the No. 00 Chevrolet Monte Carlo in the 2004 NASCAR Busch Series with driver Jason Leffler.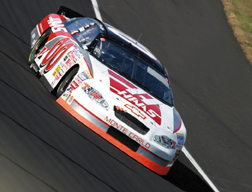 "We are very excited to be the primary sponsor for Jason Leffler and the No. 00 Chevy," said Scott Melamed, Marketing Manager for Haas Automation. "Jason is one of the best drivers in the series, and we're optimistic that he and the entire racing team will put Haas Automation in Victory Lane."

Haas Automation will be prominently featured on the white-and-red No. 00 Chevy in all Busch Series races dur-ing the 2004 season. Haas Automation is also an associate sponsor for the No. 0 NetZero HiSpeed Chevrolet on the Nextel Cup Series.

Haas Automation has been involved in motorsports since 1995, forming technical partnerships with the likes of PacWest Racing Group, All American Racers, British American Racing and Hendrick Motorsports. Haas is also an associate sponsor of the Hendrick Motorsports teams of Jeff Gordon and Jimmie Johnson.

For more information, contact Scott Rathburn, Haas Automation, Inc., 2800 Sturgis Rd., Oxnard, CA 93030, 805-988-6935, Fax: 805-968-6918, E-mail: srathburn@ haascnc.com, Web: www.haascnc.com.