Thanks To Wegener North America

Recently Wegener North America donated an extrusion and hot gas welding system to The Ohio State University Department of Industrial Systems and Welding Engineering.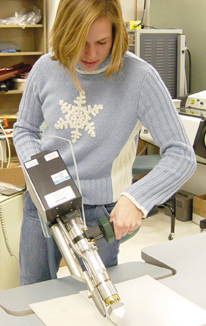 This system is being used in the Plastics and Composite Joining Laboratory for instructional and research work.
There are two classes, WE706 (The basics of welding of plastics) and WE806 (Advanced welding of plastics) that will benefit greatly from this generous donation. In WE706, the students learn about all plastics and composites welding processes including: process physics, equipment design, part design and material compatibility. In the correspon-ding laboratory sessions, the students gain hands-on experience on equipment setup and process optimization.
For more information, contact Dagmar Ziegler, Wegener North America, 16W231 S. Frontage Road, Ste. 12, Burr Ridge, IL 60527, 630-789-0990, Fax: 630-789-1380, E-mail: info@wegenerwelding.com, Web: www.wegenerwelding.com.