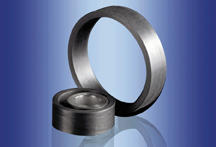 Industrial Pumps Realize Power Savings

Responding to continuous demand for reliability and performance of industrial pumps, CREATEC GmbH & Co. KG has devised a revolutionary set of CREACOMP® PT (Pump Type) composite materials that combine VICTREX® PEEK polymer with carbon fiber. These composites have been successfully used to replace metals in the manufacture of parts subject to intense wear in pumps, resulting in enhanced process reliability, greater energy efficiency and a consequent cost savings.
Most heavy industrial pumps are designed and fitted with sets of replaceable components subject to wear (e.g., bushings, case and impeller wear rings). These wear parts are designed to support and stabilize the pump 'rotor and offer protection to the shaft, impellers and pump casing by absorbing wear and abuse. In addition to these roles, wear rings act as internal seals and, to prevent frictional contact, maintain a gap between the impeller and pump casing. It is essential to keep this gap or clearance at an optimum value to improve efficiency.
Testing by CREATEC GmbH & Co. KG has revealed a significant gain in energy efficiency and cost savings when composite manufactured wear rings are used. The gain in efficiency of a typical multistage process pump is 4-5% when clearance is reduced by 50%. A test of an upgraded six-stage process pump revealed an improvement in efficiency from 82.5% to 87%, reducing the cost of electrical power consumption by $105,000 per year. As a result, pump manufacturers are increasingly using VICTREX PEEK polymer-based thermoplastic composites such as CREACOMP PT for wear part components to improve efficiency and save energy costs.
Traditionally, bushings and wear rings have been made from metallic materials such as bronze, stainless steel and cast iron, but today CREACOMP PT thermoplastic reinforced VICTREX PEEK polymer-based composite materials, available in four grades, can now be used as a metal replacement.
For more information, contact Victrex USA, Inc., 300 Conshohocken State Road, Suite 120, West Conshohocken, PA 19428, 800-VICTREX, Fax: 484-342-6002, Web: www.victrex.com.