Sings & P.O.P. Spotlight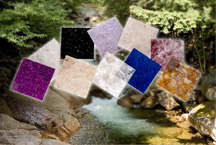 Minerals Acrylic Sheet
Acrilex, Inc., producers and distributors of highend custom-colored acrylics, announced its Acriglas® Minerals series line of acrylic sheets. Composed of 20% genuine Muscovite Mica flakes, a naturally occurring mineral, the Minerals series is a greener option ideal for use in cosmetic displays, store fixtures and millwork.
The Minerals series was born from encapsulating Muscovite Mica flakes in an acrylic matrix, transforming the natural raw material into a machineable, formable and weather-resistant product. Offered in an assortment of stunning colors, including Sandstone, Black Galaxy Mica, White Quartz, Indian Amber, Amethyst, Wisteria Mica, Garnet, and Natural Mica, the Minerals series line of acrylic sheets is lighter in weight and easier to fabricate than stone and glass and saves time and money by reducing loss due to breakage.
Available in a variety of sizes and thicknesses ranging from 1/8" to 1/2", the Minerals series can be drilled, routed, laser cut, glued, formed, hot stamped, and silkscreened like any other acrylic sheet. All sheets can be custom cut or configured to meet the specifications of a wide variety of applications.
For additional information, contact Dan Rustin, Acrilex, Inc., 230 Culver Avenue, Jersey City, NJ 07305, 800-222- 4680, Fax: 201-333-1237, E-mail: drustin@acrilex.com, Web: www.acrilex.com.
---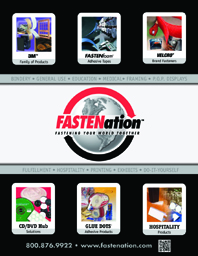 Fastener Solutions
FASTENation, Inc. is a global distributor and converter of fastener solutions from 3M™, Glue Dots® International, Adhesive Applications Inc., Velcro USA Inc., and a manufacturer of table-skirting clips and CD/DVD fastening solutions.
Their 2012 catalog has many new products from Velcro USA Inc. like VELCRO ® Brand Extreme on a roll, and 3M™ like 3M™ Low VOC Adhesive Sprays, Scotch® Glue Products, Scotch® Restickable Mounting Tabs, Strips & Sheets, Scotch® Permanent and Removable Mounting Products, Post-it® Super Sticky Notes. They have added pre-cut adhesive backed magnets that are available in small quantity packages. They have also added the Ez-Hanger System and the Chrome Pinch Hanger.
FASTENation manufactures and produces custom solutions such as straps, die-cut coins, cut pieces and more. Theycan also perforate certain materials to meet customer's specifications and sell them on a continuous roll. This perforating option allows for fast and easy separation of materials.
For additional information, contact Justin Ferdinand, FASTENation, Inc., 120 Brighton Road #2, Clifton, NJ 07012, 800-876-9922, Fax: 973-591-1443. E-mail: sales@fastenation.com, Web: www.fastenation.com.
---
Display Parts
popco, inc. is a supplier of display parts for designers, manufacturers and users of point-of-purchase displays. Offering the EZ snap rail®, H-channel, shelf channel sign holder, steel looped end cable and large suction cups (plain, with tack and with hook). popco offers poster, sign hanging and mounting, sign base and sign channel, VELCRO® hook and loop, fasteners and binding posts, literature boxes and more. The catalog contains essential items for the display, retail, advertising, marketing, public relations, bindery, printing, fulfillment center, corrugated box, industrial, distribution, manufacturing, sign shop and a wide variety of additional industries. popco stocks what it sells for immediate delivery.
New stocked items include black deko springs, clear Viking screws, fold-up boxes, aluminum snap rails, sign channels, flat cap push screws and finned feet and fasteners.
For additional information, contact Stuart Wear, popco inc., 5405 Opportunity Court, Minnetonka, MN 55343, 800-557-6726/952-352-0887, Fax: 952-352-9474, E-mail: sales@popco-usa.com, Web: www.popco-usa.com.
---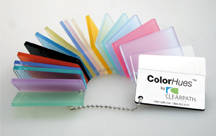 Cast Acrylic Line
Rowmark LLC's new ColorHues™ cell cast acrylic line adds a pop of brilliant color with the smooth, clean look of glass to any signage project or P.O.P. display. Featuring matte finish on one side and gloss on the other, this lightweight product is well suited for tactile signage applications or can be easily embellished with stand-offs. Offered in any array of 19 popular translucent and opaque tones, ColorHues™ is produced in 24" x 49" sheets in 1/8" gauge and is laser, rotary and Braille engravable. It is scratch resistant with high impact strength.
For additional information, contact Jen Schoen berger, Rowmark LLC, 2040 Industrial Drive, Findlay, OH 45840, 877-769-6275, E-mail samples@rowmark.com, Web: www.rowmark.com.
---