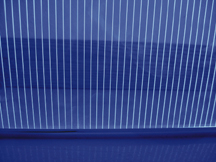 Acrylic LED Panel Manufacturing

Kern Laser Systems, a leading manufacturer of high performance laser cutting and engraving machines, has introduced its LED Panel Laser System.
Lasers are well known to be very productive machines for one pass cutting of acrylic with a flame polished edge quality. However, the capabilities of the Kern machine reach far beyond simple plastic cutting applications. A popular application that is making news in the sign industry is using lasers to make LED edge lit signage. This process is accomplished by lightly laser etching acrylic panels with logos, words and shapes. A LED light strip is then attached to the sides of the panel. When the LED strip is turned on the etched portions of the acrylic surface illuminate. Dots or lines can be etched and a thin translucent plastic sheet can be placed over the panel to diffuse the light evenly over the entire panel surface, which can be used for different backlighting applications.
For more information, contact Derek Kern, Kern Lasers, 1501 Industrial Drive, Wadena, MN, 56482, 218-631-2641, Fax: 218-631-2755, E-mail: derek@Kernlasers.com, Web: www.kernlasers.com.