Non-Melt Saw Blades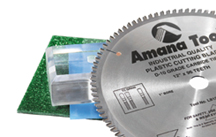 Amana Tool, manufacturer of industrial-quality carbidetipped, solid carbide and replacement carbide cutting tools, has announced the immediate availability of its nonmelt circular saw blades for cutting plastic materials. The special-application carbide-tipped saw blades are designed to produce crisp, clean cuts in acrylics such as Plexiglas® and Lucite®, polycarbonates such as Lexan® and other plastics. Each blade features a unique triplechip grind (MTCG) and 2° negative hook angle to produce less heat than standard saw blades, eliminating "chipwelding," or melting of materials.
Amana's non-melt saw blade bodies are lasercut from virgin steel and roll tensioned to ensure straight cutting performance. Carbide tips are manufactured, brazed and ground to Amana Tool's specifications, enabling smooth, accurate cuts and longer-lasting cutting performance between sharpenings. The blades feature copper plugs to reduce noise, minimize vibrations, prevent heat buildup and help eliminate blade warping. Each blade is dynamically balanced to ensure clean, true cuts with virtually no runout.
Non-melt blades are available in diameters ranging from 8" to 16" and number of teeth ranging from 64 to 120.
For more information, contact Frank Misiti, Amana Tool, 120 Carolyn Blvd., Farmingdale, NY 11735, 800-445-0077/631-752-1300, Fax: 631-752-1674, E-mail: frankm@amanatool.com, Web: www.amanatool.com.