Tubes Deliver "Cool" Look to LED-Light Columns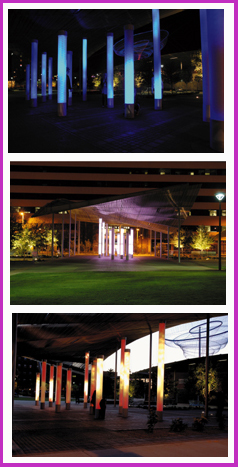 A new architectural lighting project recently unveiled in Phoenix features ACRYLITE® Satin Ice Tubes from Evonik Cyro LLC. The six-column display, located directly outside the Phoenix Civic Center, appeals to visitors because the columns switch colors and patterns according to the change in seasons, as well as to celebrate holidays and other events. However, it's the color – green, as in cost savings and environmental benefits – that has city officials beaming.
Phoenix has been recognized as one of the more progressive, environmentally-conscious cities, and this project is a perfect example as to why. The city earned the EPA's 2007 Green Electronics Champion Award, and city officials wanted this display to further the city's commitment to forward-thinking, eco-friendly projects. "ACRYLITE Satin Ice Tubes not only provide the functionality required by the design, but they bring a fresh perspective on green building technology with an innovative solution towards energy efficiency," says Debbie Sulewski, PARAPAN Project Manager.
The project was not without its challenges, but they were all met by Las Vegas-based 4Wall Entertainment Lighting. One of the biggest obstacles was finding a suitable material that could withstand the environmental conditions, and meet the design and illumination requirements, according to Buddy Pope, project manager at 4Wall.
"Phoenix, Arizona is nestled in one of the hottest, most arid regions in the United States," said Pope. "The average high temperature during the summer is 105° F. Choosing a material that could withstand the environment as well as meet project specifications was a concern."
Temperature was the least of their problems. 4Wall also needed a material that could provide the height and feature requirements of the job. Specifically, the tubes needed to be seamless so as to maximize light output and the material manufacturer had to be able to supply the necessary heights of 9', 11' and 15'. Each tube also had to have a 300 mm (11.8'') outside diameter. The company that fit the bill was Evonik Cyro.
"After discussing our concerns with the architect, we were referred to Evonik Cyro," said Pope. "Evonik Cyro was helpful right from the get go and suggested its ACRYLITE Satin Ice Tubes. When we were informed that they could extrude the tube there was really no question. No other competitor could produce the heights we needed without seems."
The ACRYLITE Satin Ice Tubes have a frosted appearance throughout that offers excellent, even light diffusion while maintaining high light transmission. Optimum light dispersion is created by the many diffuser beads embedded within the tubes that continually change the light propagation. They are UV resistant and do not yellow like polycarbonate.
Satin Ice Tubes were a smart choice for more than their performance. Like all ACRYLITE products, Satin Ice Tubes contain no lacquers, paints or adhesives; are free of bisphenol A, formaldehyde and plasticizers; and are fully recyclable, making the tubes a more environmentally friendly alternative than other acrylic products. ACRYLITE Satin Ice Tubes are also extruded, which means they cost at least 3 times less than cast acrylic tubes.
The light tubes are internally-illuminated using only LEDs for additional cost and environmental benefits. Although LEDs cost more initially, energy consumption is reduced between 40% and 80%, so the city will realize a payback in only a few years. Combined with the acrylic's light-diffusing properties, the tubes minimize energy and maximize results.
For more information, contact Gail Wood, Evonik Cyro LLC, 379 Interpace Parkway, Parsippany, NJ 07054, 800-631-5384/973-541-8754, Fax: 973-541-8445, E-mail: gail.wood@evonik.com, Web: www.cyro.com or visit www.acrylite-shop.com.