Vibration Mount Catalog

Finding the right vibration mounts has become easier with the publication of Vibration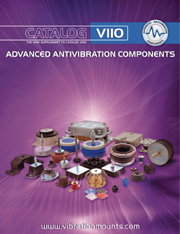 Mounts New Product Supplement, V110, by Advanced Antivibration Components - AAC.
Among the 831 components in this catalog are seismic mounts, Uniload™ Constant Natural Frequency mounts, circular cable, air springs, shear mounts, wedge levelers, bell shape stud and insert, bumpers and feets and Sorbothane® pads. In addition, AAC offers thermal conductive silicone products to resolve heat problems associated with electronic components. Many are suitable for use in extreme environmental conditions.
Supporting this catalog is an online technical section covering many topics. The entire catalog is viewable and downloadable in both .PDF and .HTML formats.
For more information, contact Herb Arum, AAC, 2101 Jericho Turnpike, Box 5416, New Hyde Park, NY 11042, 516-328-3662, Fax: 516-328-3365, Web: www.vibrationmounts.com.