New Applications for Bondable UHMW-PE

Thin-gauge Ultra High Molecular Weight Polyethylene (UHMW-PE) was first introduced to the plastics industry during the 1970s. At the time there were few distributors marketing the product and few who understood its potential. But word spread as manufacturers and distributors alike experimented with applications. Support grew. Now, new uses for this durable plastic are floated through the marketplace every day.
What's so special about UHMW-PE? Why has demand for the product increased so rapidly over the last few decades?
The answers are pretty simple. With a molecular weight ten times greater than standard HDPE resins, UHMW-PE has the highest abrasion resistance of any thermoplastic polymer. It also has a low coefficient of friction, displays great impact strength (even at low temperatures) and is extremely wear resistant and chemical resistant. Yet, UHMW-PE is easily machined, making it a top choice for a broad range of applications. Shims, wear plates, wear strips, gaskets, washers, door and drawer glides, scrapers and doctor blades are all common, widespread uses for UHMW-PE.
However, there was one development in particular that opened a whole new world of previously unforeseen opportunities: the creation of bondable UHMW-PE. The tough, slick plastic could now be directly applied to a surface without the use of mechanical fasteners. Thin, adhesive- backed UHMW tape began making its way onto distributor shelves. And where a quarter-inch layer of UHMW once required riveting (or countersinking) to hold it in place, a flexible layer of adhesive-backed .062" could provide the same service with more wear surface.
It was less expensive, covered the application area more effectively and was easier to install.
Here's just one example of how bondable UHMW is being used in heavy industry.
Harrison Concrete of Harrison, Ohio, wanted to improve material flow in the delivery chutes of their concrete mixing trucks. They were looking for chute liners that were easy to install and clean – but slick enough to move heavy, wet concrete. They also wanted material that would install without the use of fasteners. Seams, rivets and bolts in the liner cause the concrete mix to aggregate, clogging the funnel.
Crown Plastics (also of Harrison) was just around the corner. The two companies worked together to design a previously untested solution.
In the spring of 2007 Crown engineers covered the delivery chutes of two mixing trucks with 4' strips of 20" wide, .125" gauge black UHMW (black was chosen for its resistance to UV light). Each truck chute consists of two hinged "halves." The halves were separated and carefully cleaned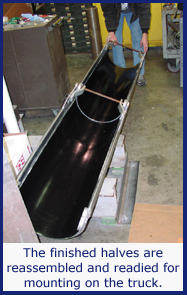 and dried. Since UHMW has low surface energy, the material was flame oxidized to prepare it for bonding. Then a two-part epoxy was applied to the chute and the UHMW was pressed into place and trimmed. Clamps held everything in place while the application cured.
In just a few days the trucks were ready to be put back into service.
Harrison Concrete employees spent the next several months observing the product liner's performance in the field. Material flow and clean-up were monitored. Careful attention was paid to the treatment's resistance to moisture and abrasion. Wear and tear on the adhesive bond was also studied.
The application is still in the experimental stages and tests will continue for a few more months. But initial results appear favorable and the process has already proven successful in other industries. Thingauge UHMW is used to reduce friction and wear in a wide variety of applications including on hoppers, conveyor systems, skateboard decks and boat bottoms to name a few.
For more information, on thin-gauge, bondable UHMW, contact Crown Plastics, 116 May Dr., Harrison, OH 45030, 800-368-0238, Fax: 513-367-4004, Web: www.crownplastics.com and www.durasurf.com.