Ball Valve

Asahi/America, Inc., introduces the latest addition to their Halar® (E-CTFE) piping system line, the Halar®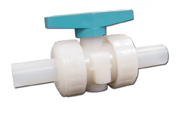 true union ball valve. The new ball valve can operate as a manual valve or be paired with Asahi/America's pneumatic or electric actuators. The true union design allows for flow and pressure in either direction and eliminates the stress inherent to a ball secured only at the top.
Halar is the most corrosive resistant thermoplastic material available. Essentially a 1:1 alternating copolymer of ethylene and CTFE (chlorotrifluoroethylene), it contains about 80% CTFE, one of the most chemically resistant building blocks that can be used to make a polymer. Additionally, E-CTFE has good electrical properties and a broad-use temperature range from cryogenic to 300º F (150º C).
The new ball valve is available in 1/2" through 1", features smooth turning in even the most difficult applications and has a unique stem design which makes it "blow out" proof.
For more information, contact Jeff Baker, Asahi/America, Inc., 35 Green Street, Malden, MA 02148, 877-24-ASAHI/781-321-5409, Fax: 800-426-7058, E-mail: asahi@asahi-america.com, Web: www. asahi-america.com.