Aircraft Interior Kit

Kleerdex Company, LLC, offers its updated KYDEX® sheet sample kit produced especially for aircraft interior components.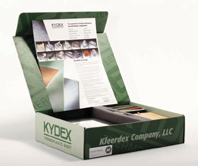 Added to the kit are KYDEX 6565(d)® and KYDEX T MC data sheets and samples. Both of these decorative thermoplastic sheets meet the fire-retardancy requirements set forth in Federal Aviation Regulations.
Also featured in the kit is a USB memory stick with product images and other useful information such as suggested applications, product highlights, production capability, and environmental and safety considerations. A technical data sheet describing detailed physical properties of each product is provided.
The kit also includes sample chip chains in a variety of textures, colors and product grades, including wood grain, metallic and fluorescent.
KYDEX thermoplastic sheet for aircraft interior components is available in a range of high-performance grades that satisfies FAA fire-retardancy requirements and exhibits outstanding physical, mechanical and thermal properties. It is readily thermoformed, fabricated and machined, making it ideal for two- and three-dimensional aircraft components, including seats, air ducts, galley parts, tray tables, window reveals and more.
For more information, contact Richard Cort, Kleerdex Company, LLC, 6685 Low Street, Bloomsburg, PA 17815, 800-325-3133, Fax: 803-642-6867, E-mail: info@kleerdex.com, Web: www.kydex.com.