Robotic Milling and Offline Programming Software

KMT Robotic Solutions introduces CamPro™ - new PCbased offline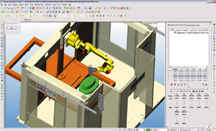 programming software that enables manufacturers to seamlessly convert CAM trimming and milling paths into complete 6-axis robot programs. The Cam- Pro solution eases the transition from CNC cutting to robotic trimming. It allows manufacturers to make the most of their previous CAM investment dollars because personnel trained on Mastercam®, SURFCAM®, Delcam and other common CAD/CAM tools can automatically use CamPro.
CamPro offers manufacturers several benefits. It makes robotic milling feasible by managing large files through the robot memory and enabling it to mill solid blocks of foam, wood and REN board. CamPro simulates the robot path offline, allowing programmers to check interference and arm configuration while the actual system is still in production. As a result, CamPro provides manufacturers with an economical way to program a large number of parts.
For more information, contact Suzanne Carter, KMT Robotic Solutions, Inc., 1255 Harmon Road, Auburn Hills, MI 48326, 248-829-2800, Fax: 248-829-2750, E-mail: robotic.na@kmtgroup.com, Web: www.kmtgroup.com.