Nylon Profiles

Petro Extrusion Technologies, Inc., extrudes custom and stock nylon shapes, in FDA or heat-stabilized grades of Nylon 6, and Nylon 12.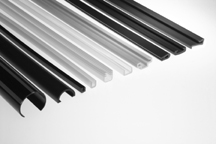 Semi-rigid or flexible grades are available for most custom shapes. Profiles can be made in natural, standard or custom colors as required. Petro also offers custom cut to length capabilities. Catalog available upon request. They can also custom extrude profiles based on customer drawings.
For more information, contact Bob Petrozziello, Petro Extrusion Technologies, Inc., P.O. Box 99, Garwood, NJ 07027, 800-229-3338/908-789-3338, Fax: 908-789-0434, E-mail: rpetro@petroextrusions.com, Web: www.petroextrusions.com.