Sheet Welding & Bending Products

Ingenia GmbH is a specialist in the development and the production of butt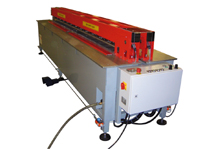 welding, bending and forming machinery for the production of semifinished products for PE, PP, PVC, PVDF, ECTFE, PMMA, PS, TPE, TPU, EPDM and more. Their sheet welding and bending machines accommodate standard, foamed, corrugated and concrete protective liners, profiles, any shape including gaskets and pipes for production of tanks, scrubbers, apparatus and devices. They have a developed machine specifically for the fabrication of corrugated sheets.
Ingenia can offer a complete line of fabricating machinery for the production of transportation systems such as: a Butt welder with automated bead cutting, hinge forming lines for foldable boxes, fold welding machinery for solid boxes, continuous strap welder for food grade applications and concrete casting boards, and by adding a Plastic hot gas or extrusion welder corner profiles can be added to the end product.
For more information, contact Larry Rowold, RRE, Inc., 1010 Vermont Ave, The Villages, FL 32159, 352-259-7103, Cell: 630-319-3480, E-mail: larryrwold@aol.com.