3-D Laminate

KYDEX® HD, a new, high-durability grade of three-dimensional laminate, surpasses high-pressure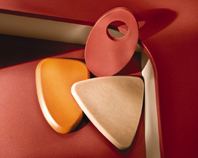 laminates, melamines and rigid thermofoils in resistance to surface and edge impact. The new sheet grade has been developed specifically for membrane pressing and flat laminating of routed MDF components intended for horizontal and vertical surfaces of retail fixtures, kiosk housings and furniture for commercial, institutional, healthcare, hospitality and other high-traffic applications.
At 0.022" (0.56 mm), it is the thinnest gauge of KYDEX sheet ever produced, allowing more accurate reproduction of intricate profiles, fine details, corporate identity and other 3-D shapes routed into MDF substrates.
The sheet is offered in 12 stock colors and over 3,000 custom colors with low minimums. Color is integral, making severe gouges or scratches penetrating the surface less conspicuous.
The sheet also carries a Class 1/A fire rating and is resistant to harsh cleansers and repeated cleaning with no staining or fading.
The company also produces KYDEX sheet in woodgrain patterns, granite patterns, integral granites and integral metallics, as well as heavy gauge integral colors.
For more information, , contact Richard Cort, Kleerdex Company, LLC, 6685 Low Street, Bloomsburg, PA 17815, 800-325-3133, Fax: 803-642-6867, E-mail: info@kleerdex.com, Web: www.kydex.com.