Sign Market Brochure

Plaskolite, Inc. has released a new sign market brochure, designed to offer fabricators,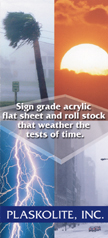 designers and manufactures detailed information regarding Plaskolite's line of Optix® acrylic and Duraplex® impact modified acrylic sheet products.
Plaskolite's sign market brochure lists product characteristics, fabrication information as well as available flat sheet and roll stock sizes.
For more information, contact Jonda Stover, Plaskolite, Inc., P.O. Box 1497, Columbus, OH 43216, 800-848-9124 / 614-294-3281, Fax: 614- 297-7287, Web: www. plaskolite.com.