Tools and Accessories for Working With Plastics

Craftics Inc announced the availability of their new catalog. They have created a user-friendly catalog with a number of new products including a Retail Display Board.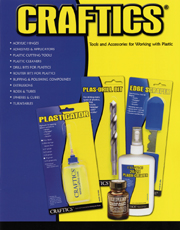 It contains the most popular items for resale, all for one low price to distributors. Other new items include the H2O Flame-Polishing Torch and various display components. The new catalog will make an excellent sales tool for your team with its modernized look and full color photos. Additionally, their website offers up-to-date information and ordering capabilities.
For more information, contact Tracy Pineda, Craftics Inc, P.O. Box 91930, Albuquerque, NM 87199, 505-338-0005, Fax: 505-338-0008, E-mail: sales@craftics.com, Web: www.craftics.com. Fabrication Manual