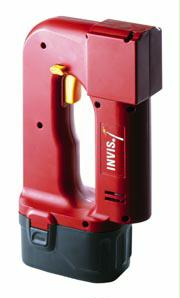 Invisible Joining System
Colonial Saw introduced INVIS, a revolutionary new joining system from Lamello based on a no-touch magnetic screw. With INVIS, strong, invisible and detachable connections can now be created. In addition to its esthetic advantages, the system offers a number of time- and cost-saving solutions to anyone with a mounting or joining challenge.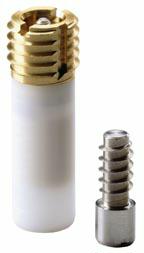 The system is based on the principle of a magnet driven screw. The screw of the joiner is connected to a supported magnet, which can be triggered to turn by an external rotating magnetic field. Once placed in the work-piece, the joining element can be screwed into the threaded bolt in the opposite piece through the use of the handy, battery driven INVIS screw device. The result is a stable, detachable joint without any visible joining elements.
The system is fast, reliable and simple. Tightening takes about 3-5 seconds. A distinct tapping sound, generated by the impact wrench effect of INVIS, indicates that the joint is securely tightened. This leads to high tightening values. Test series revealed that the tightening force of INVIS lies well above those of the traditional eccentric connectors.
INVIS joining elements are available in two diameters: 8 mm for the use in materials with a thickness of 12 mm, or 12 mm for thickness of 19 mm and above.
For more information, contact Dave Petty, Colonial Saw, 122 Pembroke Street, P.O. Box A, Kingston, MA 02364, 781-585-4364, Fax: 781-585-9375, E-mail: info@csaw.com, Web: www.csaw.com.