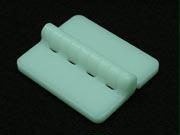 New Multi-Hinge
Allen Company now offers their Multi-Hinge in DelrinŽ 500 and K-Resin. The Delrin 500 is available in white and can be used for a variety of mechanical applications. The K-Resin is available in clear and is especially well suited for medical applications.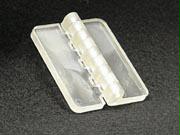 Multi-hinge is available in a wide variety of materials, colors, and two configurations (flush or offset). The same hinge can actually be assembled for either flush or 3/8" offset mounting simply by reversing one leaf. This allows the fabricator to choose the best combination to meet their needs for appearance, rigidity and heat or chemical resistance. The hinges can be fastened with either heat or solvent welding or can be mechanically fastened. These heavy-duty hinges are suitable for a variety of commercial and industrial applications.
Allen Company was recently awarded ISO Certification to the 9002:1994 standard.
For more information, contact Dave Anderson, Allen Company, 7505 Washington Ave. South, Edina, MN 55439, 952-829-1831, Fax: 952-829-5721, E-mail: sales@allenplastics.com, Web: www.allenplastics.com.