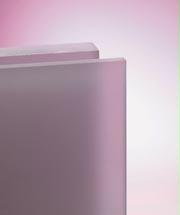 Machine Grade Polycarbonate
Sheffield's HYZOD® MG (Machine Grade) polycarbonate engineering plate is an amorphous thermoplastic that offers high impact strength, high modulus of elasticity and excellent dimensional stability as well as good mechanical and electrical properties. HYZOD MG absorbs very little moisture and generally resists acidic solutions. It has a 270°F (132°C) heat deflection temperature at 264 psi. Good dielectric and thermal performance, excellent impact resistance, toughness, elongation and dimensional stability make the sheet an ideal choice for insulators, sight glasses, manifolds, diaphragms, lenses and machine guards. It is available in 24" x 48" or 48" x 96" sheets. Standard colors are clear and black with custom colors available by special quotation.
HYZOD MG is offered in UV-Stabilized grade from standard stock. FDA-Special grade can be custom ordered. 24" x 48" sheets have a gauge range of 2.5" to 4.0" and 48" x 96" sheets have a gauge range of .750" to 2.00". HYZOD MG maintains excellent surface quality and flatness after cutting. The product remains flat with minimal curve or warp and shows no visual signs of contamination after machining.
New Web Site
Sheffield Plastics, Inc. has also launched their new web site www sheffieldplastics.com. The site highlights products and positions the company as a member of the worldwide Bayer Group. The site's product section presents information on several grades of polycarbonate sheet commonly used in the architectural, industrial and commercial markets; products for security glazing applications; and PETG sheet for the display, store fixture, and interior sign markets. Both general product information and complete literature in the form of PDFs are available to viewers upon request.
For more information, on Hyzod or the website, contact D.J. Jantz, Sheffield Plastics, 119 Salisbury Road, Sheffield, MA 01257, 800-254-1707, Fax: 800-457-3553, Web: www.sheffieldplastics.com.