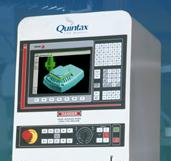 Training and Demo Facility
Quintax is completing their on-site CAD/CAM training facility with an adjacent demonstration room equipped with Quintax 3- and 5-axis CNC routers. This provides customers with the option of having their programmers attend for training on CAD/CAM programming and operators work one of the machines in the demo room prior to delivery of their machine. Customer programs, fixtures and parts are welcomed for these training sessions.
For more information, contact Dennis Brazelton, Quintax Inc., P.O. Box 30149, East Canton, OH 44730, 330-488-1251, Fax: 330-488-3167, E-mail: 330-488-3167, Web: www.quintax.com.