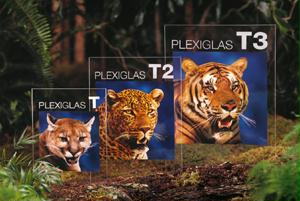 Impact-Resistant Acrylic Sheet
Atoglas has strengthened Plexiglas® T, high-clarity impact-resistant acrylic sheet, which is now available in three grades - T, T2, and T3. Each one offers outstanding aesthetics, rigidity and weatherability in P.O.P. and display environments.
For good impact resistance, the original Plexiglas T sheet delivers it with edge clarity. Plexiglas T2 sheet offers added toughness, plus better appearance and performance than multipolymer sheet. For the greatest impact resistance, Plexiglas T3 offers excellent clarity, surface hardness, weatherability, and is ideal for demanding P.O.P. applications.
Standard sheet sizes of 4', 5', and 6' x 8' are available in thicknesses from .060"- 3/8".
For more information, or free samples, contact your Atoglas distributor or Tom DeMain, Marketing Director, Atoglas, ATOFINA Chemicals, Inc., 2000 Market Street, Philadelphia, PA 19103-3222, 800-647-5569, 215-419-7000, Fax: 215-419-5512, Web: www.atoglas.com.