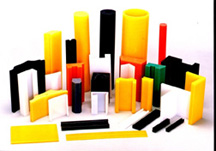 UHMW Plastic

A new brochure from Garland Manufacturing Company features machined industrial-grade parts made from GAR-DUR® UHMW (ultra-high molecular weight) plastic. Because of GAR-DUR's performance characteristics, use of these machined parts can help manufacturers reduce downtime, eliminate the need for lubrication, replace steel parts, and lower their operating costs. The data sheet illustrates GAR-DUR's relative abrasion resistance compared with other materials, as well as its relative coefficient of sliding friction.
GAR-DUR is an engineering grade plastic for OEM use, offering a broad range of outstanding benefits, including: abrasion resistance, Self-lubrication, it is rust-proof and corrosion resistant, offers high-energy and shock-absorption characteristics, is thermally stable over temperature extremes from -460°F to +180°F, and is dimensionally stable.
The material is used in a wide variety of applications including wastewater, marine, mining, pulp and paper operations, refrigeration, chemical plants, material handling, and automotive assembly plants. GAR-DUR is also FDA- and USDA-approved. In addition, Garland is ISO 9002 certified.
For more information, contact Mark Van Walbeck, Garland Manufacturing Company, P.O. Box 538, Saco, ME 04072-0538, 207-283-3693, Fax: 207-283-4834, E-mail: garland@garlandmfg.com, Web: www.garlandmfg.com.