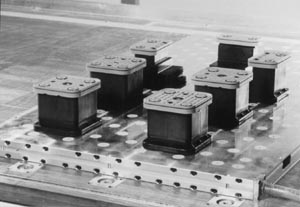 VACUUM CLAMPING FOR CNC MACHINES

Schmalz introduced a new vacuum clamping system called VacuClamp T. A special vacuum table with imbedded magnetic check valves distributes vacuum on demand to a number of vacuum blocks strategically placed to securely hold the workpiece(s).
The blocks are machined to maintain a precise height of 3.93" ± 0040". This method of clamping allows point to point operation, side machining, easy set-up and higher machine output. Locating pins and other accessories are available.
For more information, contact John Braxton, Schmalz, Inc., 7711-109 Welborn Street, Raleigh, NC 27615, 919-713-0880, Fax: 919-713-0883, E-mail: info@schmalzinc.com, Web: www.schmalzinc.com.