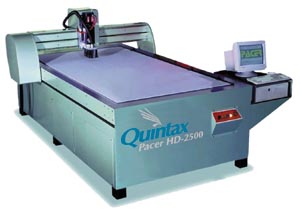 CNC ROUTER LINE

Quintax has expanded their CNC router line and now offers the Pacer System series of CNC routers for the North Amer ican market. There are three series of standard Pacer routers (Cadet, Compact and HD) with a total of seven models. This addition expands the range of 3- and 5-axis CNC routers Quintax already offers.
All models are available with Pacer's XMC-E control software that provides for accepting CAD data from any system and converting it to a cutting program. All units are equipped with a vacuum bed, automatic chip extraction and either a floating or dual purpose fixed/floating head. Spindle speed ranges are from 3,000 to 24,000 rpm, and feed rates are up to 630"/min. Options include spray mist coolant and 3D software.
For more information, contact Dennis Brazelton, Quintax Incorporated, 315 Pekin Drive S.E., P.O. Box 30149, East Canton, OH 44730, 330-488-1251, Web: www.quintax.com.