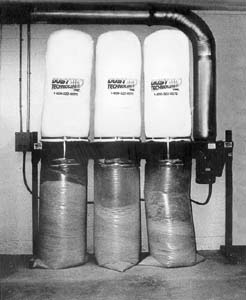 DUST COLLECTION SYSTEMS

You can create a cleaner, safer work environment with a line of heavy-duty, self-contained, internal return dust collection systems from Dust Technology, Inc.
The DT-series Dust Col lection Systems feature a proprietary baffling system that lets users regulate the fill ratio in each of the plastic collection bags to minimize downtime by allowing them to be emptied simultaneously. Totally self-contained, these systems use Beane fabric upper filter bags which are designed to require less airflow, increase dust extraction capacity, and lower the pressure drop differential for optimum efficiency.
Providing storage capacity ranging from 15 to 75 cu.ft., the systems are available with 3, 5, 7.5, 10, 15, 20, and 25hp, single or three phase, 208/230/460volt T.E.F.C. blower motors, depending upon model. They are designed for stability and quiet operation. A rotary air-lock material transfer system, for sending high volumes of waste outside to a truck or other storage facility, is optional.
For more information, contact Bryan Murphy, Dust Technology, Inc., P.O. Box 316, Woburn, MA 01801, 800- 322-0070, Fax: 888-322-0071, E-mail: mail@dusttech.com, www.dusttech.com.