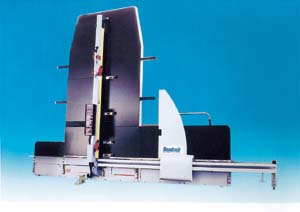 COMPUTERIZED PANEL SAW

A new, computerized vertical panel saw that requires minimal floor space and features automatic saw carriage traverse with infinitely variable speed controls is being introduced by Hendrick of Salem, Massachusetts.
The vertical panel saw offers the same operational characteristics as a conventional horizontal panel saw in a compact vertical format measuring only 4' deep x 15' wide x 11' high. Featuring automatic saw carriage traversing and material indexing between cuts, with infinitely variable speed controls from 10 to 50 ft./min., it has a pusher that runs on THK linear ways and ball screws for smoothness and stability.
Providing a solid surface material cut area to permit the stack cutting of small parts, the Hendrick PRO-V Computerized Vertical Panel Saw has a full length material hold down bar for ±0.005" positioning accuracy. It offers single blade scoring and three cutting modes: conventional top-to-bottom, scoring, and reciprocating. Fully programmable, the controller features an LED readout of programmed part size and the next pusher position.
For more information, contact Linda Wiggin, Hendrick, Division of RWH Industries, Inc., 36 Commercial St., Salem, MA 01970, 978-741-3600, Fax 978-774-0242, E-mail: hendrickrw@aol.com.