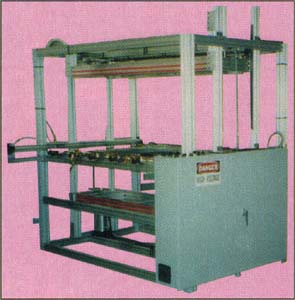 EXPANDABLE MODULAR THERMOFORMING EQUIPMENT

The M.S. Dowell Company introduced a modular thermoforming machine series that can be expanded as the customer's production requirements grow. These modular machines are available from a small 3' x 3' to a large 3' x 6' mold size. They can also be expanded from a base manual model to a fully automatic, state of the art thermoforming machine.
Constructed of strong, lightweight aluminum extrusions for easy expansion, both pneumatic and electric platen drives are available. For highly detailed and difficult to form parts, heaters have thermocouple sensed and solid state temperature controlled zones. All machines offer fast cycle times, high-energy efficiency, are simple to operate, and require minimum maintenance.
The available expansion modules include a top platen, bottom heater, pneumatic sheet clamping, sheet cooling, automatic controls, and an additional forming station. Modules can be added by simply bolting them on and plugging them in. The expandable design enables customers to purchase only what is currently needed while allowing them the flexibility to add-on later.
For more information, contact Michael Dowell, M. S. Dowell Company, a Division of Learning River, Inc., 5316 Bracy Ridge Court, Pfafftown, NC 27040, 336-922-5726, E-mail: msdowel@attglobal.net.