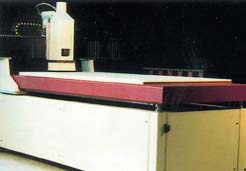 PLASTICS ROUTER/POLISHER

A. Tech offers the LMB Finishing System specifically designed for routing plastics. This unique machine offers a finished, polished edge on routed acrylic up to 3/8" thick.
The system rough cuts at 4m/min. and polish cuts at 1m/min. It is equipped with a tool changer and six tool holder. Standard cutting capacity is 4' x 8'. It comes with a full size vacuum table, 5.5 hp motor and optional 9 hp with spindle speeds up to 24,000 rpm.
For more information, contact Victor Miranda, A.W.E.D. Corp., 1175 Buford Hwy., Suite #104, Suwanee, GA 30024, 770-831-9800,Fax 770-831-7404.