Fastener Solutions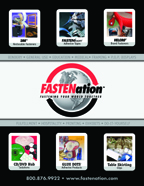 FASTENation, Inc., a global distributor and converter of fastener solutions from 3M, GLUE DOTS, Adhesive Applications and Velcro USA Inc., and a manufacturer of table-skirting clips and CD/DVD fastening solutions announced the release of its new catalog. "We again used the release of this new catalog to be an opportunity to improve the look, feel and layout of our catalog. We have enhanced our product images, product information and glossary of terms", said David Petak, Executive Vice President of FASTENation, Inc.
The 2010-2011 catalog offers updated information on all the products and services that are available from FASTENation, Inc.
"We are excited about the future and some of the initiatives we have underway and hope to announce to our customer's in the near future. But, as we continue to grow our business, we feel it critically important to maintain the goal of over achieving in all areas that our customer's experience. The 2010-2011 catalog is an example of our commitment to this goal," said Justin Ferdinand, Vice President of FASTENation, Inc.
For more information, contact Justin Ferdinand, FASTENation, Inc., 120 Brighton Road #2, Clifton, NJ 07012, 800-876-9922/973-591-1277, Fax: 973-591-1443. E-mail: sales@fastenation.com, Web: www.fastenation.com