Compression Molding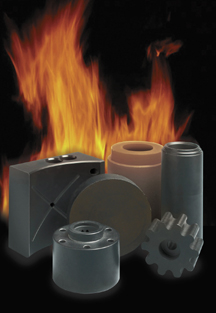 Ensinger's compression molded stock and near net shapes provide engineers and designers with options and flexibility in a variety of high performance thermoplastics. Not every application for engineering thermoplastics requires high volume production runs of standard materials. Smaller quantities of high temperature, high performance compounds can often be used to keep production or development costs down. Ensinger's large diameter press is capable of molding up to 81" in diameter in materials such as TECAPEEK, glass filled TECAPEEK and glass filled TECATRON PPS. This press allows for a larger diameter than any other manufacturer. Ensinger can also mold virgin PTFE and UHMW shapes over 25" in diameter.
Ensinger offers a variety of products that can be compression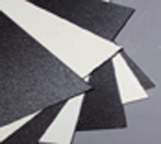 molded. Typical polymers include TECAPEEK and TECATRON (PPS). Typical fillers include glass fiber, carbon fiber, graphite and Teflon®.
High Performance Thin Gauge Materials
Ensinger also expanded its product line to include a variety of high performance thin gauge materials. Manufactured at Ensinger's Penn Fibre facility, the new product offerings include the following: TECASON S Polysulfone (PSU) natural and TECANYL Noryl EN265 (PPO) black which are available from .040" to .125". Thin gauge materials from .031" to .25" can be supplied in TECATRON 30% glass filled PPS black and TECAMID 12% glass filled nylon black. TECAPET natural is offered in thin gauge from .031" to .125". Ensinger also has an extensive inventory of thin gauge TECAPEEK sheet. Thin gauge high performance thermoplastics are available in sheets, coils/rolls, strips and punched parts.
Ensinger maintains an extensive inventory of thin gauge materials for immediate delivery from stock.
For more information, contact Bruce Dickinson, Ensinger, Inc., 365 Meadowlands Blvd., Washington, PA 15301, 800-243-3221/856-227-0500, Fax: 724-746- 9209, E-mail: bdickinson@ensinger-ind.com, Web: www.ensinger-online.com.