Polish Acrylic on a Sliding Table Saw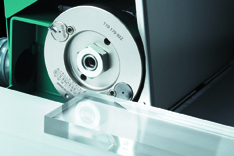 For over three years, Martin has been pursuing the idea of finish polishing the edges of acrylic on the sliding table saw. Shopfitters, constructors of musical instruments and particularly trade fair construction companies often have to polish the edges of acrylic that have become dull after cutting. The idea was to develop an option for the MARTIN T74 saw that would make it possible to finish polishing of acrylic panels directly after cutting them.
The drive of the sliding table was fine tuned for polishing. The pressure bar is divided into several clamping areas, which can be used independently ensuring gentle and firm clamping of smaller and bigger workpieces. A special fence included in the package makes it easier to position the workpieces to be polished. Even whole stacks of acrylic plates can be positioned for polishing without difficulty at the 2 m guide. Acrylic plates as well as whole stacks of material, with an edge length of up to 3,000 mm and a thickness of up to 100 mm, can be processed effortlessly.
The package includes the polishing unit, including tool protection, dust extraction hood and lifting device which can be lifted and lowered manually. The polishing unit can only be used with Euracryl ES-100 tools (not included in the package) polishing a maximum thickness of up to 100 mm.
For more information, contact Carl Stout, Martin Woodworking Machines Corp., 8107-M Arrowridge Blvd., Charlotte, NC 28273, 704-525-3963, Fax: 704-525-3443, E-mail: info@martin-usa.com, Web: www.martin-usa.com