PAI Machining Stock

Engineers and designers will have more options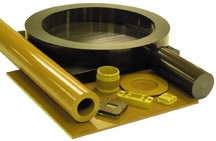 for new or upgraded part designs with Quadrant's expanded range of Torlon® PAI shapes. Torlon is an ideal material for applications where extreme strength, stiffness, stability and wearresistance are required. It is far more economical than most grades of PI and offers better performance in applications up to 500°F (260°C). Quadrant has exclusively produced Torlon 4203 PAI and Torlon 4301 PAI rod and sheet for several years.
Quadrant is adding several larger rod diameters - up to 5.0" for the electrical/structural grade of 4203 and up to 2.5" diameter for the bearing grade 4301. These larger diameters markedly improve yields for parts that were previously machined form sheet, and the machining of rods gives fabricators an opportunity to increase productivity.
In addition to the new sizes, a new capability to provide tube in 4203 and 4301 up to 4.0" O.D. offers additional material and machining productivity gains.
For more information, contact Kim Imes or Kress Schwartz, Quadrant Engineering Plastic Products, P.O. Box 14235, Reading, PA 19612, 800-366-0310, Fax: 800-366-030, E-mail: kim.imes@qplas.com or kress. schwartz@qplas.com, Web: www.quadrantplastics.com.