Compact CNC System

ShopBot introduced their completely redesigned small-shop CNC systems. The compact PRSseries systems are high-quality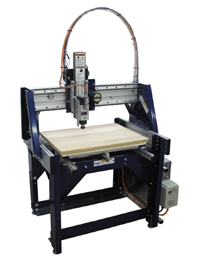 CNCs perfect for use in small shops, garages and home workshops. The PRSalpha uses the same hardware and software – including closedloop motors and hardened steel rails - as ShopBot's PRSalpha full-size, industrial CNC systems and the PRSstandard offers an opportunity for those interested in CNC to get started at a lower price point. ShopBot also introduced the PowerStick Y-axis extender for the new CNCs. ShopBot Tools, based in Durham, N.C., designs and manufactures low-cost, high-value computer numerically controlled (CNC) cutting machines.
ShopBot was founded by CEO Ted Hall, Ph.D., a Duke University professor of neuroscience, who developed the tool while building plywood boats as a hobby. After several years of development, the company began shipping tools in 1996. With more than 4,000 ShopBots in 54 countries, ShopBot is one of the largest producers of CNC routers for woodworking and plastics in North America. The company employs 25 people in the Durham, N.C. area.
For more information, contact Dave Minella, ShopBot Tools, Inc., 3333-B Industrial Drive, Durham, NC 27704, 888-680-4466/919-680-4800, Fax: 919-680-4900, E-mail: info@shopbottools.com, Web: www.shopbottools.com.