Prototype Express Program

CYRO Industries has launched ACRYLITE® Prototype Express, a program that simplifies purchases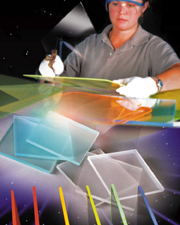 of small quantities of acrylic sheet to enhance design creativity, flexibility and artistic freedom. In crafting point-of-purchase displays, innovative signage, eclectic furniture and other unique projects, the ability to test drive materials prior to fullscale manufacture is often necessary. Yet until now, acrylic sheet products were not readily available in small quantities. CYRO's new program makes the company's line of ACRYLITE specialty acrylic sheet products available in orders as small as single sheet transactions.
By providing distributors the ability to sell its ACRYLITE acrylic sheet in smaller quantities, CYRO is effectively matching distributor sales capabilities with demand. Prompt turnaround time, with delivery typically in two business days, further helps distributors strengthen their relationships with customers.
For more information, contact Steven J. Vaccaro, Steve Costanzo, CYRO Industries, 100 Enterprise Drive, Rockaway, NJ 07866, 800-631-5384, Fax: 973-442-6117, Web: www.cyro.com.