Plumbing Pipe & Installation Guide

Harvel® Plastics, Inc. introduced its HydroKing™ CPVC plumbing pipe, a high-quality line of copper-tubesize (1/2"-2") piping that excels in hot and cold water applications.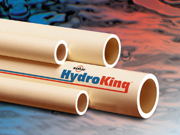 Compared to copper plumbing pipe, HydroKing offers superior corrosion resistance and a substantially lower installed cost with reliable solvent-welding joining techniques.
The pipe is manufactured in strict compliance with requirements set forth in ASTM D2846 for materials, workmanship, dimensions, tolerances, pressure-bearing capability and thermocycling resistance. HydroKing meets the requirements of NSF Standards 14 and/or 61 for quality and health effects. In addition to physical performance testing for product quality, this testing ensures that the pipe neither contains nor contributes harmful substances to transported potable water.
Harvel Plastics, Inc., has also published an updated edition of its comprehensive 146-page "Engineering & Installation Guide" to provide the thermoplastic pipe industry its most comprehensive printed resource for technical data on PVC, CPVC and specialty piping and duct systems. The guidebook features extensive engineering and design data, a chemical resistance guide for pipe selection, physical properties, pressure ratings, industry standards and test methods, installation procedures, safety and caution data, storage and handling information and more.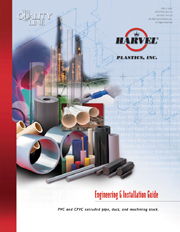 For more information, contact Patrick Foose, Harvel Plastics, Inc., P.O. Box 757, Easton, PA 18044, 610-252-7355, Fax: 610-253-4436, E-mail: harvel@harvel.com, Web: www.harvel.com.