FLEX Tubing Catalog

Finger Lakes Extrusion has released a new full-line catalog of FLEX Tubing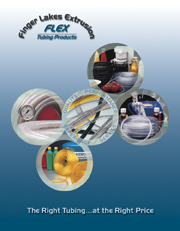 Products.The new edition includes up-to-date specifications and size offerings for: ClearFLEXT PVC tubing and vacuum tubing; FuelFLEXT PVC fuel tubing; BraidFLEXT braid-reinforced PVC tubing; FLEXT GP general-purpose PVC tubing; Ether-PUR and Ester-PUR FLEXT Polyurethane tubing and PolyFLEXT LLDPE tubing.
The new full-color catalog contains an updated Chemical Resistance Chart and an updated Selection Guide detailing regulatory compliance, operating temperatures and other physical properties data for each formulation. A handy Conversion Chart is also included to help users specify the right product for their application.
For more information, contact Kingsley Beck, Finger Lakes Extrusion, 7353 Victor-Pittsford Road, Victor, NY 14564, 585-742-2780, Fax: 585-742-2887. Web: www.FlexTubing.com.