Polyurethane Hose

Urebrade® reinforced polyurethane hose for tough ap-plications involving repeated flexing, resistance to moisture and the affects of weather and pressure is now available from NewAge® Industries, Inc.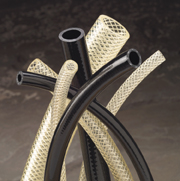 Uses include chemical transfer, air lines, pneumatic control systems, low-pressure hydraulics, robotics, vacuum equipment, granular transfer, insulation sleeves, oil and fuel supply (additives in today's fuels and petroleum products warrant field testing), petroleum-based product transfer and many others.
The hose is reinforced with polyester braid material incorporated with its walls of polyurethane and is available in two styles: naturally transparent or opaque black. Both offer higher pressure capabilities than unreinforced tubing and smooth interior surfaces for unobstructed flow. Another important feature is that the hose does not contain plasticizer, an ingredient used in some plastic materials to increase their flexibility. Plasticizer can leach out, causing hardening of the hose or contamination.
Offering a temperature range between -90°F and 175°F, the transparent style allows visual contact with the flow and is listed NSF-61 for use with potable water. It is stocked in sizes from 1/4" through 2" ID. Black Urebrade, developed mainly for industrial applications, hides dirt and grime and is less expensive than the transparent version. Sizes from 1/4" to 3/4" ID are available from stock. Custom variations of Urebrade, such as thermal hose bonding, special sizes and colors, heat-formed shapes and cut-to-length pieces, are available.
For more information, contact NewAge® Industries, Inc., 145 James Way, Southampton, PA 18966, 215-526- 2300, Fax: 215-526-2190, E-mail: info @newageindustries.com, Web: www.newageindustries.com / urebrade.asp.