New Tooling for Routing Plastic

Southeast Tool, Inc. offers a new solid carbide "O" flute tool with a radius for routing plastic and rounding the edge of the material in the same operation (SPR 320).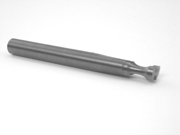 By using "O" flute tooling that has this profile, you can achieve a better finish and will have less routing time compared to running the material in two passes. The tool is ideal for the chair mat and automotive accessories area (bug shields and vent shades) among others. It is currently available in sizes to cover 1/8", 3/16" and 1/4" material with more sizes available soon.
Southeast Tool also offers a solid carbide 1 flute spiral "O" flute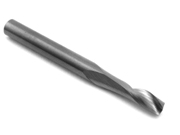 for cutting more rigid plastics like acrylics (SOU120). The benefit of the "O" flute tool is better edge finish by removing the chips faster. This is especially true on problem-type materials like acrylics. In addition, the "O" flute design helps in the chip curl to keep the chips from rewelding to the part that is cut. The tool is available in 3 sizes: 1/8", 3/16" and 1/4" in right hand and left hand rotation.
For more information, contact Chuck Hicks, Southeast Tool, Inc., P.O. Box 1597, Conover NC 28613, 828-465-7012, Fax: 828-465-7013, E-mail: router@ southeasttool.com, Web: www.southeasttool.com.