Plastic Welding
Welding plastics is done by bringing them up to the specific weld temperature (viscous flow), joining them under pressure and allowing them to cool down slowly.
There are many types of welders on the market today. From hand-held "stick" welders, injection welders and high output extrusion welders to sheet and pipe fusion systems, selecting the right welding equipment can be a challenge. Knowing the application is the first step in determining your equipment needs. There is a suitable solution for virtually all plastic welding requirements.
There are also numerous plastic materials and blends on the market today. It is essential to know what material you are joining to achieve a strong weld. A testing lab can easily identify most common plastic materials. There are also several tests you can perform on your own, the most accurate being the burn test. Every plastic material reacts differently when it burns. For this test, you must know the different behaviors and smells of plastic. If possible, keep samples of plastic materials that you already know. You can compare these samples with unknown plastics. For more information on burn testing, see our website at www.plasticsmag.com.
Considerations of Plastic Welding
The weld area must be kept clean at all times. Surface preparation is necessary. Every particle that remains in between the weld and the parent material will affect the strength of the actual weld. The best way to clean the weld area is to scrape off the first layer of the material surface.
All hot air-, extrusion-, or injection-welding joints should have a root bead on the opposite weld side to avoid a cracking area and to give more strength to the weld. It is necessary to weld down to the welding root. If it is not possible to weld from both sides, the weld zone should be baffled out in an angle of 60º - 70º for all hot air and extrusion welders or 80º - 90º for injection welders. See the sketch below for the right bead angles.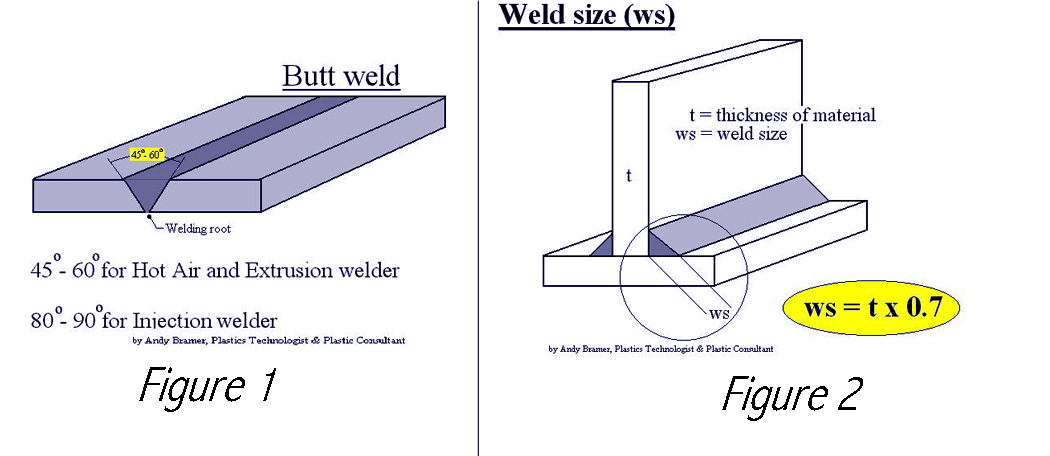 Another important component is the weld size. As a sample and an easy to follow "rule of thumb," you can use the following:
Fabrication starts with material selection. After you know what kind of plastic is to be used and the dimensions are determined, you can determine what equipment you will need.
"Stick welders" require some skill. You must prepare the weld area and the welding rod. Maintaining consistent pressure can be difficult with these units because the touch of the person who makes the weld is what applies the pressure. The distance of the welder's nozzle to the welding rod also has to be constant. The welding rod will melt faster than the parent material. For this reason a larger area of the parent material needs to be preheated.
Extrusion welders are much bigger and heavier than stick- and injection-welders. They provide a large weld bead. Many different sizes of extrusion welders can be found on the market today. Basically the welder position should be downward to use the weight of the machine to apply some of the required pressure.
Injection welders offer other advantages. They are light weight, fairly easy to use and the weld quality is typically high. You can weld different bead sizes by changing the aluminum tip to the proportions you need to weld.
To produce lots of long straight welds to join sheets together, a Sheet Butt Welding Machine is very efficient. This machine works like a hot plate welder.
For hot plate welding, the two parts to be welded must have the same shape. If a hot plate weld has to be done, e.g. in pipeline joints, the earlier mentioned parameters will apply for this kind of welding as well. It does not matter what kind of welding equipment you use: temperature, pressure and time are always important. The equipment manufacturer and/or material supplier should have parameter charts for hot plate welding various materials.
Employee education is essential if you wish to achieve quality welds. Plastic welding looks easy, but if you do not understand the importance of all the parameters, preparations and techniques, it can be difficult to achieve quality welds. Therefore, we highly recommend spending some time and money on training. Many manufacturers and manufacturer's representatives offer courses.
Whichever system you choose, proper training will increase the efficiency and quality of your welded products and the satisfaction of your customers.
The above is only a beginning. There are several more things you need to know to weld plastic. For more information, see the archive of welding articles on our website at www.plasticsmag.com. Before you start any plastic welding, consider the following:
1. Know the application

2. Know the material

3. Know the welding system
Following is an overview of a wide range of equipment and supplies offered by leading manufacturers and their representatives. A contact name, phone and E-mail address follows each listing. They can also be reached by writing their number on the Reader Service Card found between pages 12/13 or 36/37. Complete mailing address and websites are listed in the directory on page 41.
Abbeon Cal, Inc. offers handheld hot air/gas welders that are lightweight and very maneuverable.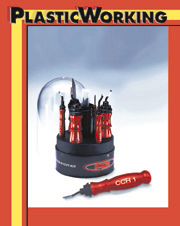 They carry over 20 styles used in all fabrication and repair applications. Some welders are self-contained; others require an air/gas source. They offer a wide selection of tips to fit your application.
They also offer extrusion welders which eliminate the need for multiple passes thereby increasing speed for large fabrication and repair applications. A wide selection of tips/shoes are available for all types of jobs through their catalog and website.
Ultrasonic insertion, spot. welding and staking applications are all easily done using their convenient handheld ultrasonic welder. Its handheld design allows for portability making it great for working on large sheet stock or in hard-to-reach areas.
Abbeon Cal supplies welders, welding rod, welding tips/shoes, replacement elements, as well as bending, cutting and process heating tools and much more. For additional information, contact Ernie Alcorn, Abbeon Cal, Inc., at 800-922-0977, E-mail: abbeoncal@aol.com.
Drader developed the Injectiweld for fabricating, prototyping and repairing thermoplastics.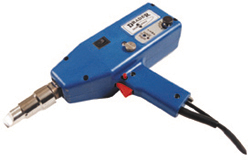 The welder produces a high quality weld and is easy to use.

The Injectiweld's unique features set it apart from other units. The hot tip melts into the parent material in a controlled manner where other systems use hot air. Because Drader's tip submerges below the surface of the parent plastic, one does not have to take time to scrape off the layer of oxidation before making a weld. Drader's interchangeable tips increase the welder's versatility. One welder can make welds ranging in size from 1/16" to 1/2" in a single pass.

The second unique feature of the Injectiweld is its automatic feed system. Automatic feed allows a person to control the Injectiweld with one hand and use the other hand to hold the part being welded. The weld quality is high because the Injectiweld injects a molten shot of welding rod into the weld zone with consistent, repeatable pressure.

Drader offers plastic welding seminars customized to meet your needs. In just one day, a comprehensive course covers all the key aspects of plastic welding. For additional information, contact Bruce Lecky, Drader Injectiweld at 800-661-4122 / 780-440-2231, E-mail: blecky@drader.com.

Leister Process Technologies

announced the certification of the following Factory Sales and Service Centers: Assembly Supplies, Co., Hapco Inc., Heely-Brown Co., Malcom Co., Uneco Systems and Winkelman Sales, all veteran distributors of Leister products. These are the only U.S. based Leister dealerships to have earned the Authorized Leister title as a badge of service integrity and quality in the hot air tools technology arena. "The Leister certification and training program sets a high standard for technical support, product service, preventative maintenance, repair and refurbishment," said Walter Zurmühle, Leister Worldwide Sales Manager. "These training and certification courses are very demanding, highly technical and expansive. We put to the test the mettle of our finest distribution centers, and completing this certification is a significant step towards fully exploiting all the potential of the Leister product line. I am proud of all the certified companies continued commitment to Leister product and service excellence by renewing their standing as a Certified Factory Service Center."

A national network of factory trained and tested sales and service centers is another way for Leister Process Technologies to provide professionals with the expertise they need in the field of hot air technology. Assembly Supplies Co. has been a loyal and committed distribution partner to Leister for over 17 years. "We are proud of our record as a quality distribution and service center for Leister customers in the United States," said Dennis Van Grol, CEO of ASC. "We have always considered ourselves the US-based extension of Leister products, parts and service, and remain very proud of our product depth and inventory. As an augmenter of Leister innovation, we offer free training on all Leister products at our headquarters, as do all of the other service centers, and maintain a library of repair methods on Leister products that date over 25 years."

For additional information, contact one of the following Leister Factory Sales and Service Centers: Assembly Supplies, Co., San Diego,CA at 800-694-1472, Hapco Inc., Kent, OH at 800-345-9353, Heely-Brown Company, Atlanta, GA at 800-241-4628, Malcom Co. Inc. Andover, MA at 800-289-7505, Uneco Systems, Inc., Romeoville, IL at 800-700-6894 or Winkelman Sales, Buffalo, NY at 800-929-4326.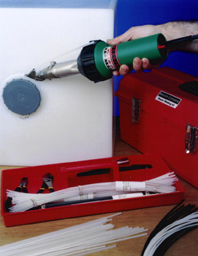 Malcom Company offers a wide range of plastic welding tools and services including a plastic welding school. Their tools include hand held hot air welders by Leister, Leister automatic plastic welding machines for thermoplastic membranes, portable plastic welding kits, hand held plastic extruders by Dohle, Widos Pipe butt welders and Ingenia Sheet butt welders and benders.
Malcom also offers plastic welding training at the customer's site or at Malcom's training facility in Rhode Island. Malcom's plastic welding school leads welders towards a certificate in plastic welding based on the German DVS plastic welding standards.
Malcom offers a wide range of hot air tools, blowers, nozzles and accessories that can be built into machines for production lines in your factory for drying, curing, preheating, de-flashing and laminating. Malcom also offers a line of small pellet-fed production extruders that can be built into machines for various production and laboratory applications. For additional information, contact Johnathan Bixby, Malcom Company at 888-807-4030 / 401-683-3199, E- mail: jonathan@malcom.com.
New Image Plastics can match and extrude a welding rod to meet your current application requirements.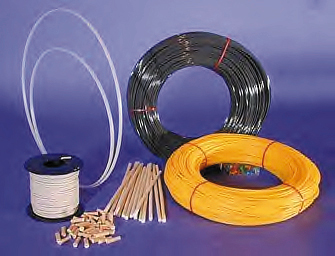 Their top quality thermoplastic extrusions are available 24/7. Resin data sheets, real time inspection reports and manufacturer's certifications are always available for your ISO requirements. New Image extrudes only 100% prime virgin materials and provides Spec Sheets to match your parent material.

They can supply small diameter and large diameter rods, rods for welding and custom print-to-part profiles, For additional information, contact Jim Waring, New Image Plastics at 330-854-3010, E-mail: NIPSales@ aol.com.

Plastic Welding Technologies International, Inc. (PWT) (formerly Columbine International) is a new source for top-of-the-line plastic welding equipment and accessories. They offer 54 years of combined experience in plastics welding and designing of equipment.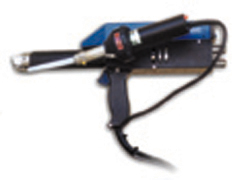 Along with their own equipment, built in the U.S.A., they represent the new line of Munsch extrusion welders from Germany and the complete line of Leister® hot air welding tools from Switzerland.

PWT is committed to offering the best customer service with 24-hour service lines and a repair department staffed by factory trained, experienced technicians. Next day delivery of original replacement parts is available. On-site and in-house training and product demonstrations are also available. For more information, contact Plastic Welding Technologies, Greg Yaple (West) at 800-635-6693, Cris Bonnet (East) at 888-793-7333, E-mail: info@plasticweldingtechnologies.com.

Ritmo S.p.A,

the leading Italian manufacturer of fusion machines for welding plastic components and accessories, announced the opening of Ritmo America, LLC. This new American subsidiary is dedicated exclusively to serving the North American market and offers a comprehensive product line of fusion machines and accessories for pipe and fittings fabrication and installation. Ritmo relies on its 30 years of experience in the field of thermofusion equipment, offering superior technological machines certified with ISO 9001, guaranteeing total quality of the products it manufactures and distributes.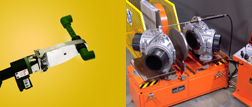 Ritmo America's product range includes table-fusion machines for plastic fittings fabrication up to 54", socket fusion machines, butt-fusion machines and a wide range of tools such as pipe scrapers, pipe cutters, bevellers and band saws.
In collaboration with Tolplast Company, Inc. and Thermoplastic Fabrication, Inc., Ritmo America, LLC offers its products and services directly on-site, to meet every requirement and need in order to provide the best service to the customer. For additional information, contact Don Hauboldt, Thermoplastic Fabrication at 713-747-5410, E-mail: Don_Hauboldt@ThermoplasticFabInc.com or Nick Tolomei, TolPlast Company, Inc. at 256-498-3698, E-mail: nick@tolplast.com.
Seelye, Inc., manufacturers of a full line of hot air/gas welders, became UL/CA Listed in 2002.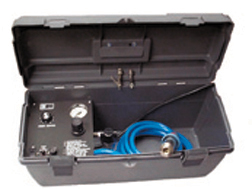 The two welders that are available with UL/CA Listing are the 2001FCP and the SI-1002. Contact their customer service representatives for more information.

Their line of hot air/gas welders includes the Model 63, the Superwelder, the Guardian Series, and the 97CH; along with the 2001FC (pictured), 2001FCP and the UL/CA Listed welders. They also carry a full line of welding accessories including heat guns, specialty tips, brushes, in-line air filters, leak detectors and welding rod. All of their products and accessories can be viewed on-line at their recently introduced website, www.seelyeinc-orl.com. For additional information, contact Paige DiChiria, Seelye, Inc. at 800-258-2936, 407-656-6677, E-mail: seelyeinc@aol.com.

STANMECH Technologies Inc.

specializes in the development of plastics joining, fabricating and forming solutions for Canadian industry. Applications range from plastics joining methods (such as hot air, extrusion, ultra-sonic, hot plate, spin, vibration and laser welding) to innovative packaging and sealing solutions, to heat sources for industrial applications (including soldering, shrinking, forming and drying).

The company offers products from ALINE (heat sealing equipment), Burger (sheet bending equipment), Clamco (heat sealing equipment), Leister (industrial hot air and plastic welding equipment), Munsch (extrusion welding equipment), MPS (high speed thermoform packaging equipment), O.M.I.S.A. (butt welding equipment), Packaging Aids (heat sealing equipment), Package Machinery (overwrap packaging equipment), Ultra Sonic Seal (thermo-plastic assembly equipment), Vertrod (heat sealing equipment) and VOLTmaster (contractor quality generators) and combines these various technologies to provide customized solutions for specific applications challenges.

The company provides service for all their product lines in their Burlington, Ontario warehouse, applications laboratory, repair and training facility. For additional information, contact Paul Subject, STANMECH Technologies Inc. at 905-631-6161, E-mail: information@stanmech.com.

United Plastic

is a custom extruder of high quality thermoplastic tubing, welding rod and stock shapes for engineering applications.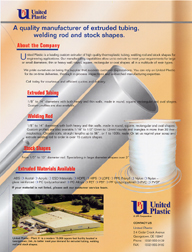 Their manufacturing capabilities allow them to meet your requirements for large or small diameters; thin or heavy wall; round, square, rectangular or oval shapes; all in a multitude of resin types.

They strive to exceed customer expectations through on-time deliveries, thorough in-process inspections and unmatched manufacturing expertise. Their welding rod is available in 1/8" to 14" diameters with both heavy and thin walls, made in round, square, rectangular and oval shapes. Custom profiles are also available. Their 1/16" to 1/2" (2mm to 12mm) rounds and triangles are offered in more than 30 thermoplastics. Choose coils, straight lengths up to 96", or 1 to 100 lb. reels. They can also regrind your scrap and extrude welding rod to order in over 15 custom shapes. For additional information, contact Bill Minogue, United Plastic at 302-855-0139, E-mail: bminogue@dbindustrialgroup.com.

Wegener North America offers a comprehensive line of welding equipment and accessories for the thermoplastics fabricator including: hot gas (air) welders from single units for repairs or production to full, comprehensive systems; extrusion welders in small, medium or high output for sheet, piping or lining applications; semi-or fully-automatic sheet butt welding or bending equipment; AC and DC spark testers for pinhole detection in plastic welds or non-metallic coatings.

Wegener's philosophy is to assist the customer in evaluating their needs. Education is an important factor. The Wegener staff is DVS (German Welding Association) certified and offers DVS certified training. Official DVS certification can then be pursued through the appropriate accredited organizations. Normally several weeks long, Wegener has compressed their DVS course for hand and extrusion welding to make it suitable for the North American market.

Wegener can design and build custom machinery for very specific applications. Pictured above is an example of a double, fully automatic extrusion welding system for the sealing of dual wall PE cylinders of numerous dimensions. For additional information, contact Dagmar Ziegler, Wegener North America at 630-789-0990, E-mail: info@wegenerwelding.com.
Winkelman Sales, Inc. is an authorized Leister sales and service center. They carry the full line of Leister products to meet your thermoplastic welding needs.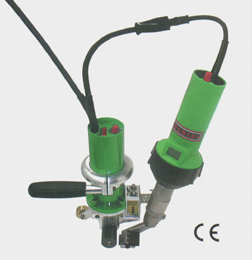 The new Leister TRIAC Drive is a semi automatic welding tool that can be used either vertically or horizontally. It is small and compact, easy handling, has adjustable temp, adjustable drive speed and can be used in tight places. Available in either 120 or 230 volts, it can overlap weld .5", 1.2" or 1.5". It is ideal for roofs, tunnels, geomembrane and a host of applications.

The LEISTER Triac Drive is equipped with a drive unit, double support carrier, pressure roller 1.2", overlap nozzle 1.2", guide handle and TRIAC PID. For additional information, contact Don Winkelman, Jr., Winkelman Sales Inc. at 800-929-4326 / 716-824-1403, E-mail: dwinkelman@buffalo.com.