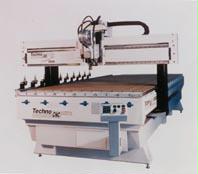 CNC Routers
Techno, Inc. introduced the new Premium Class of CNC routers. This new family of routers is a true heavyweight with the 59"x96" travel unit weighing in at over 6000 lbs. These new CNC routers feature welded and stress relieved all steel construction plus THK rails, bearings and ball screws on all three axes to guarantee minimal maintenance and maximum machine performance and longevity. They feature brushless closed loop servomotors for optimal performance, speed and accuracy. These routers also feature infinite look ahead high speed contouring to take advantage of the brushless servo capabilities. This new router series comes standard with a heavy T-slot table and is also available with a vacuum table option that still allows the use of the T-slots. This provides the flexibility of both clamping and vacuum hold down as the situation might require. Beyond the heavy-duty frame and design, the new Premium Class line comes standard with Techno's easy to use Windows PC based interface for communicating with any CAD/CAM or sign making software that outputs industry standard GCODE. Most major functions are just one-click away with the Techno CNC Interface, including: a built-in GCODE editor, toolpath preview, production logging and reporting and free lifetime software updates via the Internet to name a few.
The Premium Class is available in 5-standard sizes of 24"x30", 59"x50", 59"x96", 59"x120", 59"x144" with special sizes available upon request.
For more information, contact Roy Valentine, Techno, Inc., 2101 Jericho Turnpike, New Hyde Park, NY 11042, 800-819-3366, Fax: 516-358-2576, Web: www.techno-isel.com.